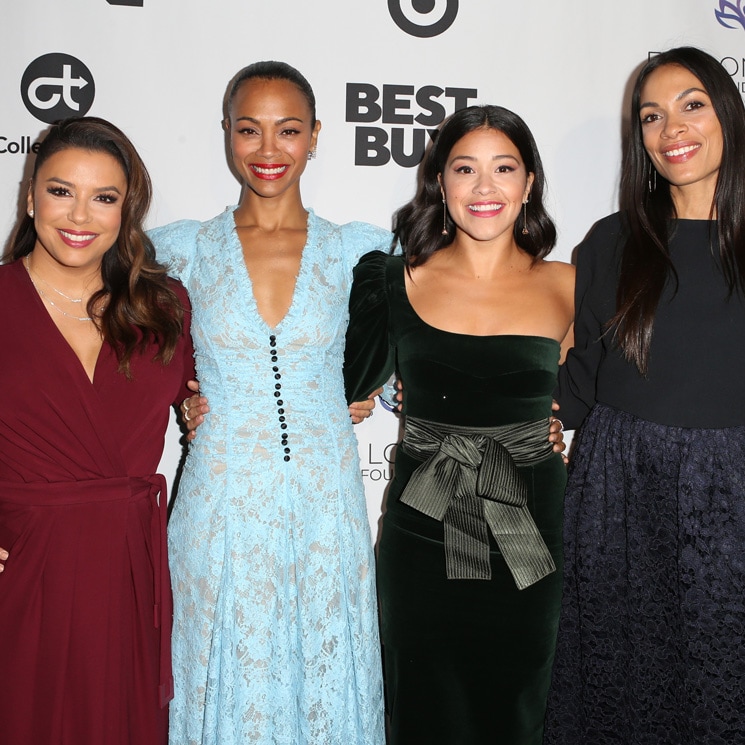 In the latest social media challenge to take over the internet, two of our Latina Powerhouses have been nominated for the #WomenDancingTogether challenge. That's right! Eva Longoria, who was nominated by Reese Witherspoon, then tapped fellow Latina Zoe Saldana to choose her favorite women's empowerment song and shake it up or lip sync to it. Celebrity costume designer and Oscar winner, Ruth E. Carter, is the mastermind behind the viral challenge and began by nominating big shots Gabrielle Union, Halle Berry, Lupita Nyong'o, June Ambrose, Angela Bassett and Tasha Smith.
Eva tagged her "feminist sisters" Zoe Saldana, Brie Larson and Serena Williams to join the women's empowerment challenge
MORE: The beauty of these Latinas goes beyond fashion
In the clip Eva rightfully shakes her booty to Beyoncé's Rule the World and captions the post with: "Thank you @reesewitherspoon for nominating me! And to @therealruthecarter for starting this challenge for #WomensHistoryMonth!" The mom-of-one then challenged her "feminist sisters" Zoe, Brie Larson and Serena Williams to join in on the fun. "Soooo much fun dancing for equality, parity, safety, and inclusion of all women. I now challenge my feminist sisters @serenawilliams @brielarson @zoesaldana."
MORE: Unbreakable sisterhood: These Latinas are sisters at heart
Eva and Zoe both star alongside legendary artists Rita Moreno and Gloria Estefan on the cover of our HOLA! USA April Latina Powerhouse Issue. In an exclusive interview, the 44-year-old actress talks of her humble beginnings and gives advice to those who want to set foot in the entertainment industry. "Create your own opportunities," Eva noted. "Don't 'want to be,' be it. And don't be afraid to start at the bottom. I started as an extra, then I got one line, then two lines."
Eva and Zoe star on the HOLA! USA Latina Powerhouse issue
On an equally empowering note, Zoe, who is one of the few women and women of color in the Marvel Universe, says she pulled her strength from example. "We were taught to be our own person," she noted. "Hearing great stories of people who looked like me—and people who looked like others— would strengthen my belief that I can do and achieve anything I set my heart on." We can't wait to see the Puerto Rican beauty's bailesito. Besides the fierce ladies mentioned above, Kelly Rowland, Tina Knowles, Mindy Kaling have already performed the challenge thus far.