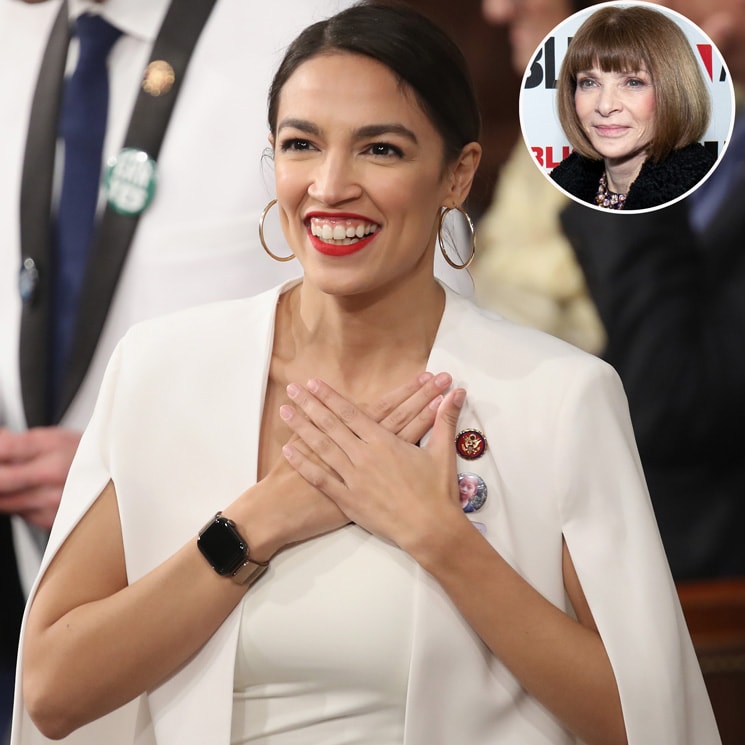 Anna Wintour gives Alexandria Ocasio-Cortez her style seal of approval! If there's someone in the fashion department we should listen to, it's probably the Vogue editor-in-chief, who doubles as fashion royalty. During the latest Ask Anna video series the 69-year-old says, "I do personally love the red lipstick and the hoop earrings," referring to AOC's signature style. However, just before she gives her thoughts on the young politician's personal trademarks, the iconic fashion editor confesses, "I think people spend a lot, too much time talking about her style rather than her substance and what she has to say."
Anna is a fan of AOC's signature hoops and red lips, but she believes people focus too much on her style rather than on what she has to say
Anna continues, "I think it's wonderful to have a young woman in the political arena that is obviously not frightened to say what she means, that represents another generation that is independent thinking, that isn't falling into line with the conventional wisdom of what a woman in politics should be or how she should look or how she should conduct herself… So, good for her. I'm looking forward to seeing where she takes us."
MORE: Jennifer Lopez and Alexandria Ocasio-Cortez have the secret to a perfect manicure
In addition, Anna also mentioned how impressed she is by Meghan Markle's ability to wear heels deep into her pregnancy and praises her choice for carrying on with her personal style. "I've been very taken by the way Meghan Markle, the Duchess of Sussex, has been dressing. Throughout her pregnancy, her heels actually seem to be getting taller every time I look at a picture of her," she commented.
"I'm looking forward to seeing where she takes us," commented the fashion editor in regards to the young politician's representation in politics
"When pregnant, I think it is very important to continue wearing your own personal style. I never understand why women suddenly decide they want to hide their pregnancy," she added. "Why not celebrate it? It's an incredibly joyful time in a woman's life. And it's nothing to be hidden or be ashamed of. Much better, in a way, to flaunt it."
MORE: Alexandria Ocasio-Cortez turn heads with her State of the Union style – see the look!
As for what she can't leave the house without: "I cannot leave the house without my sunglasses, my phone and my Starbucks." Same, Anna, same.