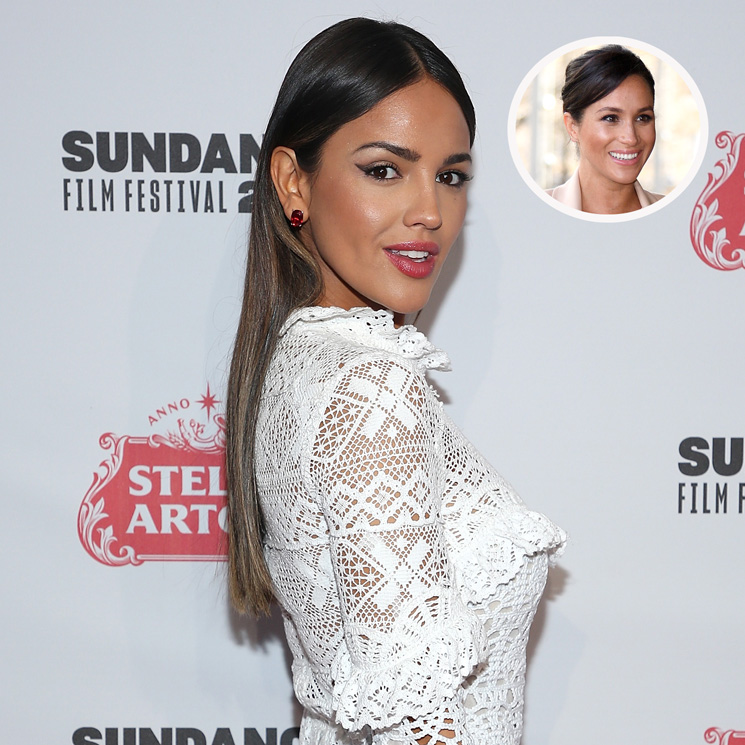 Eiza González spent the last few days at the Sundance Film Festival for the premiere of one of her recent films, Paradise Hills, but on Monday the Welcome to Marwen star wrapped up her stay in Park City, Utah. For her last day at the film festival, the Mexican actress fully channeled Duchess Meghan Markle as she stepped out in a head-to-toe neutral ensemble by Max Mara. What's more, Eiza even wore her hair up in a messy bun created by celebrity hairstylist Jerrod Roberts, very à la Meghan.
Eiza looked radiantly chic in a beige ensemble Photo: Instagram/@eizagonzalez
The 29-year-old movie star took to Instagram to share a photo of herself looking exceptionally chic and radiant in snowy Utah. "Last day💕 Thanks Sundance !#ParadiseHills," she wrote. Eiza's ultra-sleek outfit is evocative of Meghan Markle's (often) neutral takes on fashion as it consisted of beige trousers, a tucked-in turtleneck and a matching coat.
MORE: Eiza González reveals the secret to smelling good in 8-minute beauty routine
Eiza wore her hair up in a messy bun, very à la Meghan Markle Photo: Instagram/@eizagonzalez
Just one day ago, the Duchess of Sussex showed off her love for neutrals when she stepped out to the National Theater for one of her royal patronages. The mom-to-be wore a monochrome outfit by Brandon Maxwell consisting of a light, cream-colored dress, a matching blazer and suede pumps. Meghan kept to her signature messy bun, but this time she styled it with slick, side-swept bangs.
MORE: Meghan Markle looks pretty in peach in during her visit to the National Theater
Meghan looked pretty in a peachy, cream-colored ensemble earlier this week
And in case you're wondering how to recreate Eiza's effortlessy-chic hairdo at home, her hairstylist shared an easy, step-by-step process using Oribe hair products.
To Recreate:
-Prep hair with the Soft Lacquer Heat Styling Spray
-Curl hair with a two-inch curling iron in sections away from the face
-Spray Dry Texturizing Spray throughout sections to create a rough texture
-Pull hair into a ponytail in the middle, back of the head and dust the ponytail with Swept Up Volume Powder Spray
-Twist hair into place and pin to create a loose, unstructured bun
-Finish with Superfine Hair Spray