Natalia Vodianova is back to work after giving birth to her fifth child. The Russian beauty took on the Givenchy runway just 20 days after welcoming her son Roman into the world on June 4. Natalia showed off her post-baby body during the show for Paris Men's Fashion Week and took to her Instagram to share the proud moment.
"It was so much fun to see my friends and feel that adrenaline rush before stepping out on the catwalk Fall 2016 Haute Couture @givenchyofficial @parisfashionweek @riccardotisci17," she captioned the photo featuring her elegant look.
CLICK FOR FULL GALLERY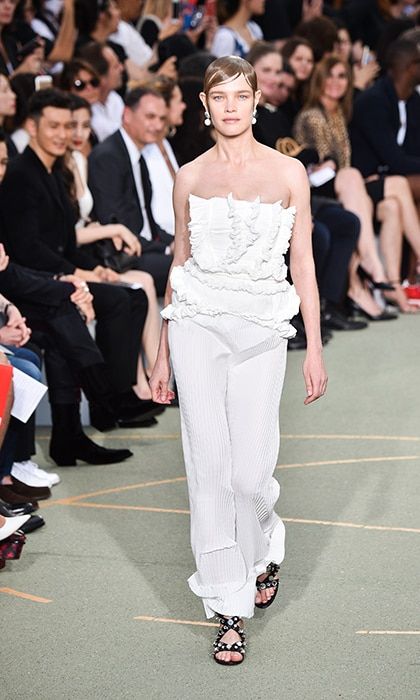 Natalia Vodianova gave birth to her fifth child in early June Photo: Getty Images
The 34-year-old took the runway in one of Riccardo Tisci's Fall 2016 Haute Couture looks. The model opened the show's couture section and wowed onlookers with her post-baby body in a strapless column gown that featured a ruffled top and a pleated skirt. Natalia was joined on the catwalk by Kendall Jenner, Irina Shayk and Bella Hadid.
Natalia and her partner Antoine Arnault welcomed their son Roman in June Photo: Getty Images
Before getting back to work, Natalia gave fans the first glimpse at her bundle of joy on Instagram, sharing a photo of her newborn's adorable foot raised in the air. "Last Saturday early in the morning, our family welcomed a new baby boy: Roman. A beautiful little shrimp, discovering the world already with the help of his brothers and sister, and making Papa very proud," she captioned the photo.
Katherine Heigl and Josh Kelley are expecting baby number three
Natalia introduced her "beautiful little shrimp" on Instagram Photo: Instagram/@natasupernova
"I am well, even if a bit tired, but ready for a big summer! Thank you to all my friends for their messages and to everyone for their support."
Natalia and Antoine also share two-year-old son Maxim, whom they welcomed in May 2014. The philanthropist is also the proud mom to three other children, Lucas, 14, Neva, 10, and Viktor, 8, from her former marriage to British property heir Justin Portman.