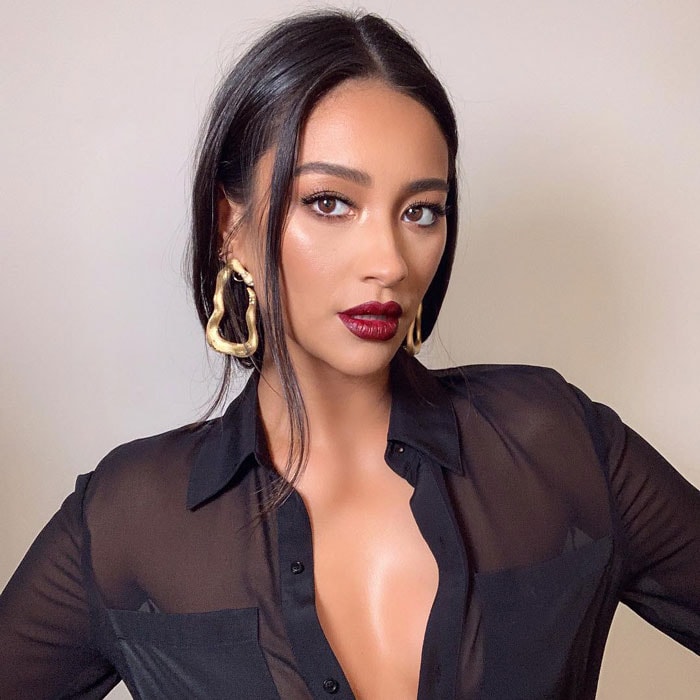 Baby bumps and top knots are in season according to Shay Mitchell! Recently the You star and boyfriend Matte Babel shared their excitement with the world of welcoming their first child. Whether you're a celebrity or not, pregnancy is a sacred and special moment for all involved, therefore the couple waited for the actress to hit her second trimester to tell the world. Let's just say it was worth the wait since both soon-to-be mom and dad announced the news with a chic' maternity shoot.
MORE: Post-pregnancy beauty products that have immediate results, fit for a royal
The Pretty Little Liars star shows off her baby bump in the chicest way
The Pretty Little Liars star originally took to her YouTube channel, to share the big news with her followers then posted her cute-mom bod on social media with a playful caption. "Does this mean I'm allowed to drive in the carpool lane at all times now," wrote the star.
Side profile of Shay and her growing baby belly
As beauty lovers, we couldn't help but obsess over her new-mommy glow and top knot. Hairstylist, Glen 'Coco' Oropeza was responsible for her sleek hair look. It's clear Shay is no stranger to taking beauty risk, the actress took a subtle natural beauty approach. Her contour and highlight were chic and simple paired with pale nude lip thanks celebrity makeup artist Ariel. Posing with true confidence, the new momma covered herself with her arms keeping the focus on new belly and natural beauty look.
MORE: Here's how to get Sofia Vergara's exact lipstick shade
Helping her share the news, longtime boyfriend Matte shared a sentimental post honoring his girl with a black and white side profile of Shay. "Watching both of you grow over the past 6 months has been the most beautiful thing in the world. The strength, vulnerability, and grace you've had during this pregnancy have left me in awe, you're going to be an incredible mom...We're lucky to have you love you," wrote Matte on Instagram.
The parents-to-be all smiles as they attend a music festival together
When it comes to telling the world about your new bundle of joy, everyone is different. While speaking to her fans and loyal follower on her YouTube channel, the actress got vulnerable about her experience thus far. "When you're in the public eye, there are some things you want to just keep a secret until you feel ready," she said in the video, which gave fans a behind-the-scenes look at everything from an ultrasound appointment to her maternity photo shoot.
We look forward to following the couple's journey into parenthood, and meeting their new bundle of joy!
WATCH SHAY'S OFFICIAL PREGNANCY ANNOUNCEMENT BELOW: