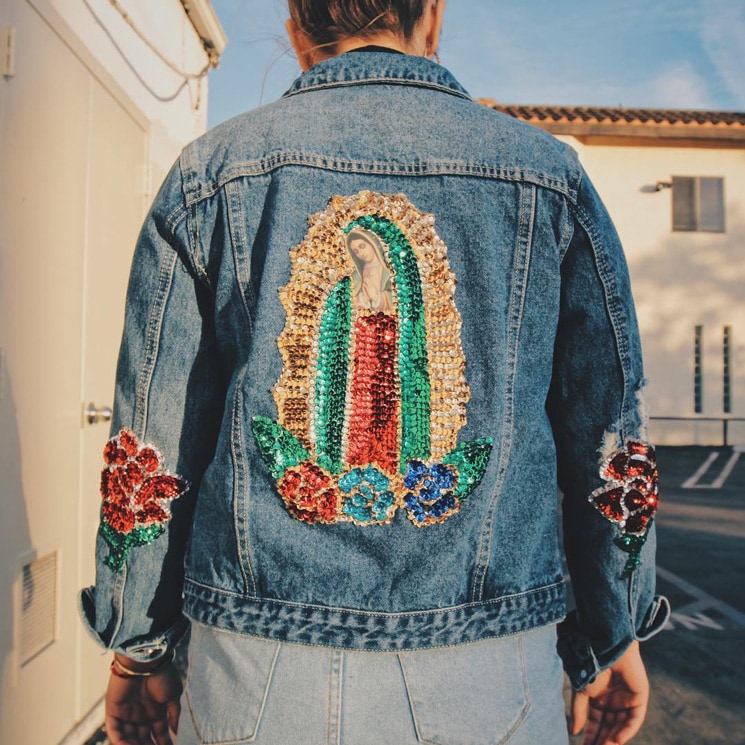 Patty Delgado is making jefa moves with her cult-craze brand, Hija De Tu Madre. You've probably seen her colorful Frida Kahlo-inspired dazzling jean jacket, fierce jewelry or thoughtful beauty tools with Latinx sayings. Back when she started the lifestyle brand in 2016, the Latina entrepreneur had no idea how much social media would impact her journey. Understanding the Latina experience, Patty set out to create fashionable pieces and products with our identities. Her brand pays homage to La Virgen de Guadalupe, Frida and more Latinx figures. Once Patty shared photos of her jackets on Instagram, the rest was history.
MORE: Meet the Latina beauty maven behind the 'It's A 10 haircare' products
Founder of Hija De Tu Madre, Patty Delgado
Growing up as a Latina in America wasn't always easy. Patty tried to keep true to her roots while adapting to new American ways. Like many, Patty found herself code-switching to ensure she was Latina when she needed to be, and American when the situation changed. With this line of apparel, she embodies both in a poetic way.
MORE: This Mexican-American beauty entrepreneur is revolutionizing skincare
Each denim jacket, shirt, necklace and desk decor is created with the intention to uplift and empower the new generation and the new age of Latinas. The California native remembers watching her mother work hard in all she did. Patty knew that creating a business that spoke to her community would lead to greatness.
Hija De Tu Madre Virgencita trucker jacket, $165, hijadetumadre.com
With Mother's Day coming up, we caught up with the jefa herself on her business, her inspiration and more. Get to know the Latina Glam-getter changing the game one jacket and beauty tool at a time.
HOLA! USA: What has been the biggest struggle and biggest success thus far?
Patty Delgado: Wearing many hats can be a struggle at times but I push through. My biggest success has been watching our growing community of customers. I love being able to see how our customers use our products in their big life milestones: graduation, family portraits, new job, etc.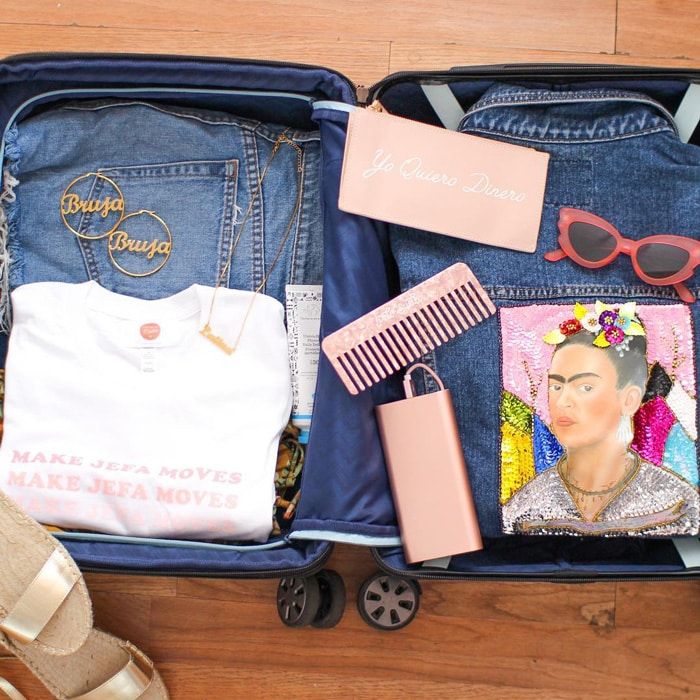 What connection does this brand have to your mother?
I've always been inspired by all of my Mom's Spanish sayings, which are seen in a lot of our products and even in our brand name! She's my biggest inspiration. She will always be my go-to person and lifetime hero.
With Mother's Day is coming up, any motherly wisdom you've gotten throughout your entrepreneurial journey?
All of the women in my family are very entrepreneurial, so they've been my greatest role models. My mom has taught me a lot about the importance of financial wellness and keeping my accounting organized.
Mother and daughter sported matching Hija De Tu Madre denim
What's the best-selling product, and why?
Our best selling product at the moment is our Make Jefa Moves t-shirt. Our customers love to be reminded of their jefa-ness and ability to make their goals happen. This top is perfect to dress down or dress up with an epic blazer and pants. Latinas know and love fashion, so I am sure everyone will love styling this look themselves.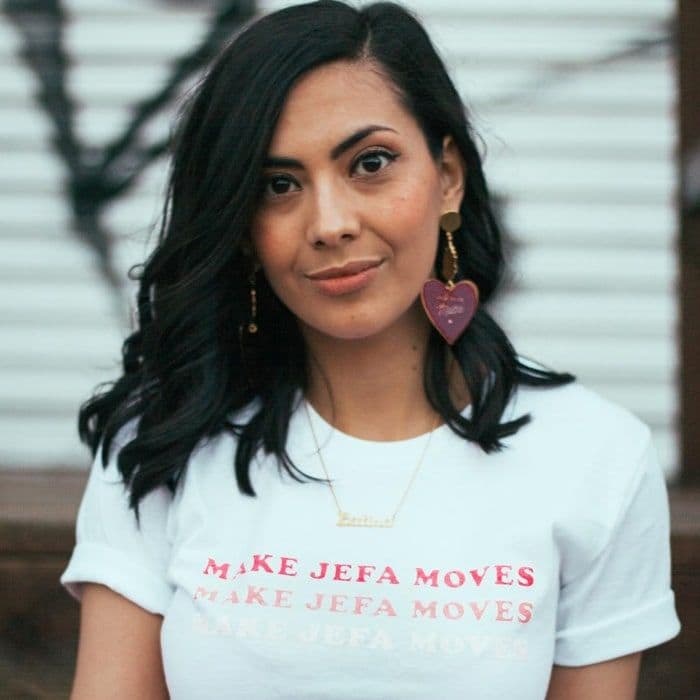 Make Jefa Moves t-shirt, $46, hijadetumadre.com
MORE: Selena Gomez designs a red-hot bikini that covers her transplant scar
Talk to me about your cool beauty products names? What was your inspiration?
Our beauty product names are inspired by Spanish sayings and songs! "La Muy Muy" is a funny way to describe a bougie girl, so it's perfect for our hand mirror. And "Pelo Suelto" comb is inspired by the chingona rebelde Gloria Trevi's song.
La muy muy hand mirror, $16 and Rose quartz face roller, $38, hijadetumadre.com
Here at HOLA!, we believe in highlighting those breaking boundaries and creating change in the beauty industry. History shows Latinas that we were and still are pioneers when it comes to the business of belleza, which is why we're spotlighting them with our weekly segment of #HOLAGlamGetters. They're born beauty entrepreneurs, unapologetic and fabulous. They've used their passion for beauty to fuel their journey to success. But, ever wonder how they got there? In a world where one's highlight reel is on replay only showcasing the glitz and the glam of creating a business, we're keeping it real with our glam-star.