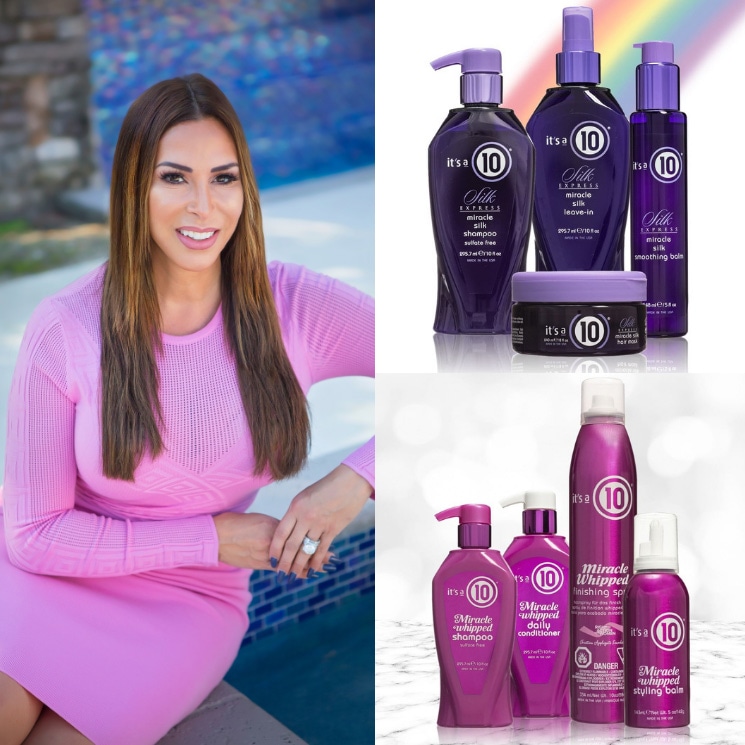 Meet Carolyn Aronson, a successful self-made entrepreneur, hair stylist, philanthropist and the founder and CEO of It's a 10 Haircare. Adopted at an early age and supported by her parents, the Puerto Rican beauty maven knew hair was her passion early on. After spending over 20 years in the beauty industry, Carolyn turned her frustration into fuel by creating the brand we love today. She envisioned a line that was inclusive and result-driven and consisted of salon-quality finish. We caught up with the Latina powerhouse on her beauty journey, entrepreneurship and her latest eye-catching endeavor that includes a giant blimp (yes, you read that correctly - read on!) and hair free products. Keep scrolling for inspirational insight, natural hair product recommendations and her career journey.
It's A 10 Founder, Carolyn Aronson Photo: Instagram/@itsa10haircare
MORE: Ada Rojas is redefining the beauty industry with her natural hairline Botánika
HOLA! USA: You launched It's a 10 Haircare more than a decade ago. What has been the biggest success up to date?
Carolyn: My biggest success was starting and building a company with one single product – Our Miracle Leave-In Product. I was up against all the big guys with little to no money, so I personally handed the samples out for free to hairdressers. Their passion for the product's performance quickly built a cult-like following. Thirteen years later it's the best-selling leave-in product in America.
Full collection of all It's A 10 Miracle Leave-In products
With an array of products you've produced, what has been your go-to must-have hair product?
The very first product we launched was our It's a 10 Miracle Leave In which now comes in 7 variations with entire collections built around them. To this day it is still our #1 seller and go-to product that the entire world loves.
MORE: Zoe Saldana is bringing back a '60s inspired hairstyle & we're in love
What are your favorite product recommendations for natural/curly-haired girls?
Our Miracle Defrizzing Collection is the best line for natural and curly hair. The Miracle Defrizzing Cleansing Conditioner has an antioxidant-rich formula to keep your curls hydrated, while the Miracle Defrizzing Gel and Miracle Defrizzing Curl Cream are the perfect styling aids to keep curls and waves bouncy, glossy and frizz-free.
Hair blogger shows off her curls and favorites It's A 10 products Photo: Instagram/@style_dose
It's a 10 is a cult-craze brand – what big projects do you have going on / coming up?
This year has already been a huge year for us! We just flew a massive blimp up and down the California coast and gave away 1 million Limited Edition samples of our Miracle Leave-In. At It's a 10 Haircare, we stand for professional salon quality that embraces strength and diversity in beauty, and this is our way of bringing that message to the masses.
Carolyn showing off her It's a 10 Haircare blimp
Along with this Free Leave-In Campaign, we kicked off a first-of-its-kind partnership with "Super 10" – ten of the world's best female MMA athletes, including Felice Herrig, Rachael Ostovich and Tracy Cortez. We're celebrating strong women of all backgrounds and passions coming together to empower females in their community.
On the product side, we have so many exciting projects in the mix! I can't say too much yet, but we are launching a makeup line called "Be a 10" this Fall. Stay tuned for more details! We are also expanding our men's line, He's a 10, to include a styling pomade and shaving cream, as well as adding to our Volumizing Collection with a Volume Shine Treatment that creates 10x the body and volume instantly.
What influence has your Latina background played in your life and brand building thus far?
Being Latina brings a passion and flare to who I am that no doubt just runs through my veins. It also has helped me to keep an open mind on diversification and inspired me to create products for all hair types regardless of skin tone and background. I always say we're a colorful brand that sees no color!
It's A 10 Founder, Carolyn and women celebrate her latest launches and beauty diversity
Here at HOLA!, we believe in highlighting those breaking boundaries and creating change in the beauty industry. History shows Latinas that we were and still are pioneers when it comes to the business of belleza, which is why we're spotlighting them with our weekly segment of #HOLAGlamGetters. They're born beauty entrepreneurs, unapologetic and fabulous. They've used their passion for beauty to fuel their journey to success. But, ever wonder how they got there? In a world where one's highlight reel is on replay only showcasing the glitz and the glam of creating a business, we're keeping it real with our glam-star.