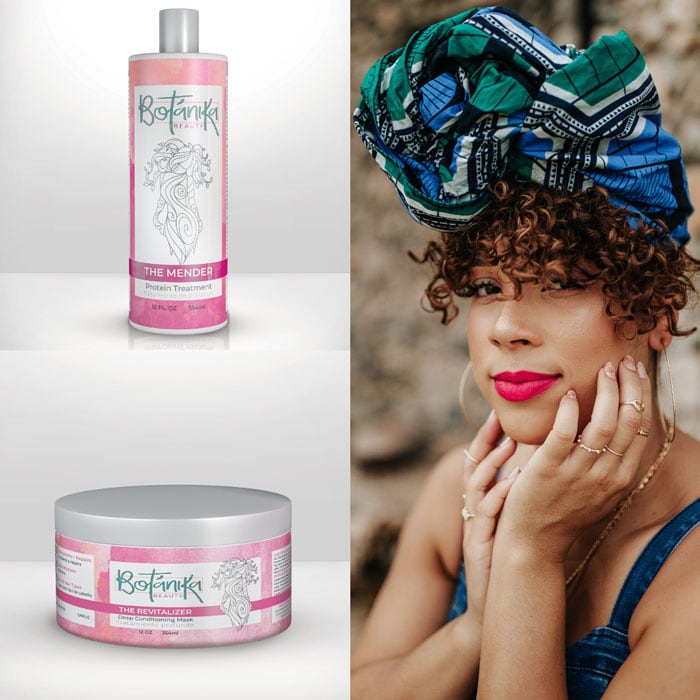 When it comes to bridging beauty and community, beauty influencer Ada Rojas is the definition of a powerhouse Latina. Inspired by local Bronx botanicas, which are spiritual stores throughout New York City, the Dominican entrepreneur launched her very own natural hair products. Paying homage to her upbringing and Latinx communities, Ada introduced the Botánika Beauty collection in early April. The array of products in the collection speak to the Latina experience with its natural ingredients of herbs and botanicals. The brand is more than just a hair care line; it's a perfect curation that celebrates Latina beauty traditions with a modern approach.
MORE: The best celebrity blonde hair colors to try for every Latina's skin tone
Co-Founder of Botánika Beauty, Ada Rojas
Raised by a Dominican single mom along with six siblings, Ada learned to embrace her natural roots at an early age. Like many curly girls, the Dominican beauty guru grew up using gels, mouses, and sprays until she discovered YouTube. Shortly after exploring beauty tutorials, Ada started her own YouTube channel and blog which focused on natural hair, makeup, and lifestyle. Success was on her side as thousands in the curly hair community praised and empowered her with each piece of content she produced.
Botanika Beauty collection Instagram:@botanikabeauty
The full line consists of an oil serum, deep conditioner, mousse, gel, protein treatment, and two curl creams. As a curly hair enthusiast and Youtuber, Ada is an expert in natural textures, curly cocktails, and more. The years of blogging and producing content pave the way for her beauty line today.
But Ada's goals were just beginning as she personally dreamt the natural hair products she has produced today. Her manifestation on the brand starting in 2015 as she took on a job overseas where she disconnected with the world and reconnected with herself. Ada found herself carving out her business plan and began the production process two years later. Much like Rome, Botanika Beauty was not built overnight.
Ada Rojas and Founder of Honey Baby Naturals, Aisha Ceballos-Crump Instagram:@allthingsada
"I had this dream in my heart in 2015, but it wasn't until 2017 where I met Aisha Ceballos-Crump of Honey Baby Naturals and pitched the idea to her that I actually got started on the process. It's been two years since I started working on Botanika Beauty and I'm so proud to finally be sharing this with the world," said Ada. Since the Dominican businesswoman is known for championing other women in the beauty community, she sees mentorship as more of a partnership. "You gain so much more by offering your help and services to others instead of asking for their mentorship right from the start," expressed Ada. Preach!
MORE: Kylie Jenner's charmed cross braid stole the show at Coachella- See The Look!
Known for being a self-love and beauty guru, Ada continues to empower those around her to embrace their natural roots. Each product motivates every curly girl to take her bounce to the next level with each beauty buy. "I want to transform the typical hair routine to a moment of self-care and reflection. I want us to connect with our roots and be inspired by the community of powerful women who came before us," exclaimed Ada.
Ada Rojas shows off Botanika Beauty brand with chic top
Here's to celebrating more Latina-owned businesses and the natural hair community. Be the first to learn about Botanika Beauty's special offers, events, and new products here.