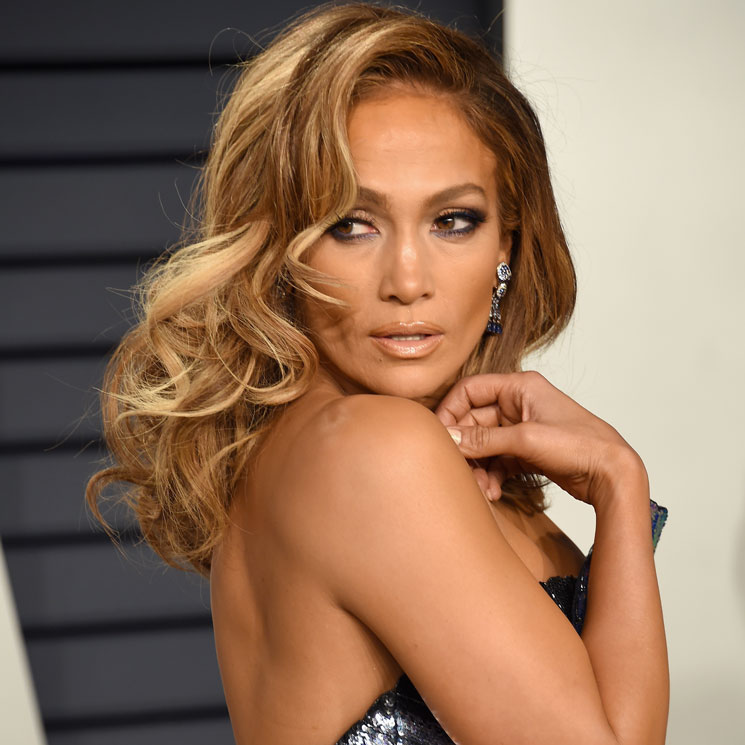 Jennifer Lopez is known for her radiant and youthful glow. The 49-year-old mogul is continuously sought after for her beauty secrets. Though A-listers are known for having sun-kissed complexions on the scene, no one does it quite like the Puerto-Rican superstar. As her signature luminous-like skin remains simply flawless, we've uncovered the secret weapon behind her glow. Whether you're a celebrity or not having a red carpet radiance is a must-have. Thankfully, JLo's longtime makeup artist, Scott Barnes dished the product behind her breathtaking glow she is famous for.
The Dinero singer on the red carpet at

the Grammy Awards
Photo: Getty Images
Recently, the celebrity makeup artist appeared in a YouTube video where he revealed that sunscreen is his secret weapon. Barnes joined YouTuber Tati Westbrook's channel to give her a signature JLo look. In the video, the male MUA explained, "My favorite drugstore product is Neutrogena," followed by, "I use this Neutrogena spray." While holding up the Neutrogena Ultra Sheer Body Mist Sunscreen SPF 30, he explained that it provides a "super glow".
MORE: Meet Aveeno's Newest Brand Ambassador-Alejandra Espinoza
Neutrogena Ultra Sheer Body Mist Sunscreen SPF 30
Though many agree that sunscreens are made to protect the skin from sun damage or skin cancer, innovative technology within ingredients help to prevent premature aging. You may be thinking, but it's sunscreen, right? Don't worry, Barnes continues to reassure reviewers during the video that it provides a boost of radiance and can be used to protect your skin and makeup look.
Barnes and Jennifer preparing before VMA performance Photo: Instagram/@scottbarnes68
The celebrity makeup artist is also behind the beautiful faces of music moguls, Gwen Stefani, and Celine Dion. Check out the video below for this, and more JLo-approved beauty tips from the makeup genius.
WATCH THE MAGIC HAPPEN BELOW