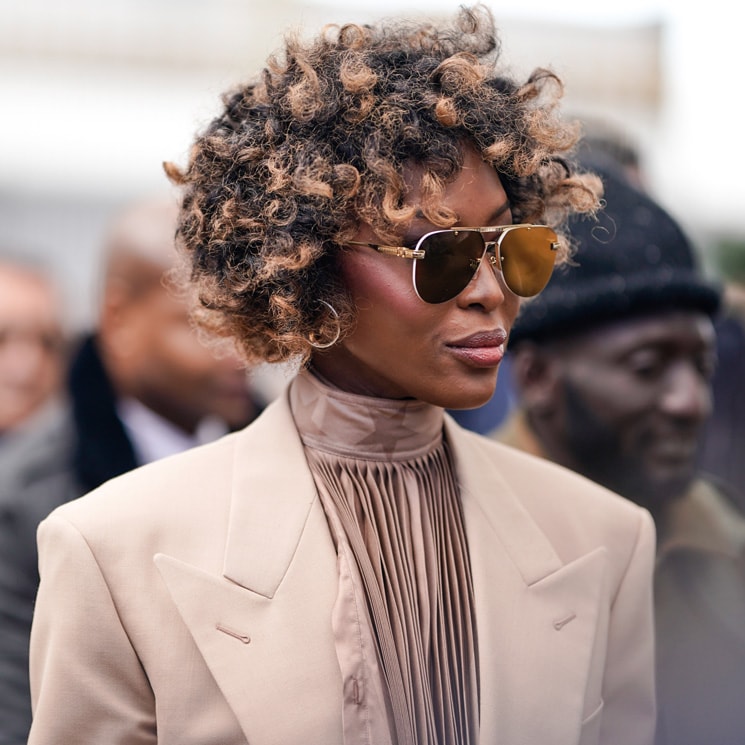 New year, new you, right? It looks that way for Naomi Campbell, who switched up her signature long center-parted locks for the complete opposite on Thursday. The 48-year-old fashion icon showed up to the Louis Vuitton Fall/Winter 2019 show during Men's Paris Fashion Week while debuting a new hairstyle – short caramel bouncy curls. The new 'do is entirely different than what we've seen her rock, well, ever, as the ombre curls are tightly coiled close to her head.
Naomi debuted short bouncy curls at the Louis Vuitton show during Men's Paris Fashion Week
What's more, the short crop came as a shock as the model had stepped out with her signature long tresses just hours before when she appeared at the Christian Dior show on Wednesday. Naomi's gorgeous long hair is synonymous to her iconic name, but this short, curly style brings a new and refreshing side that ultimately looks stunning on her.
MORE: Irina Shayk unveils chic 'glass hair' look at the Globes
Naomi exuded 70s glamour in head-toe-toe beige
In par with the star-studded fashion event, Naomi exuded 70s glamour as the retro hairstyle paired perfectly with her mirrored aviators and head-to-toe beige ensemble. The supermodel turned heads as she donned a custom Louis Vuitton pleated scarf dress underneath a structured creme-colored blazer and matching thigh-high patent leather boots. She finished off her look with a pop of color thanks to a mini orange bag.
Naomi stepped out with her signature long hair just a day before
On the beauty front, Naomi kept her makeup glam with light smokey eyes and glossy nude lips. The striking beauty who hails from the U.K. sat at the front row next to her former boyfriend Skepta, who looked just as dapper in a white shearling coat with red trimming and coordinating trousers.
MORE: Celebs who kicked off 2019 by changing their hair
Whether the top model has fully ditched her sleek tresses is still to come, but in the meantime we're here for the new curly 'do. And who knows, maybe tomorrow she will surprise us all with an entirely different look. It's Naomi Campbell after all.