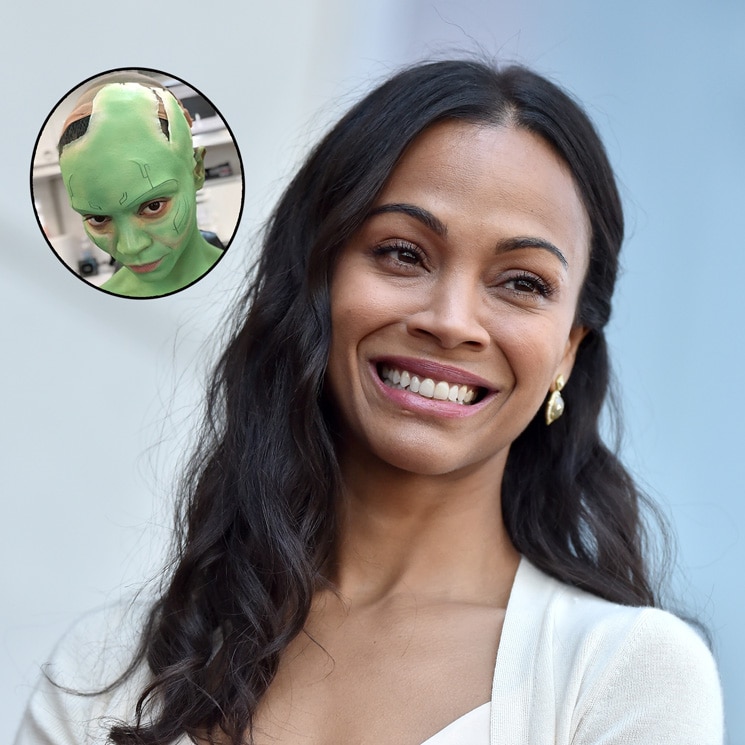 Zoe Saldana has given us a glimpse into the transformative power of movie make-up magic. The 40-year-old actress, who plays Gamora (a green-skinned member of the alien race known as the Zen-Whoberi) in the Guardians of the Galaxy films, shared to Instagram a video depicting the hours-long process it takes to get in and out of the iconic character. It looks incredibly grueling.
Zoe Saldana posted a time-lapse video on her Instagram showing the hours-long process it takes to get in and out of character Photo: Instagram/zoesaldana
The time lapse video shows the Dominican and Puerto Rican actress sitting in a chair, while her team works on taking apart her face makeup. Although there's no CGI in her final look, there are some prosthetics involved. "Her forehead is a prosthetic that I sculpted to create a new shadow line where her eyebrows once were. And her cheeks are prosthetics, too," special effects makeup designer David White told Allure.
MORE: Zoe Saldana had no problem being fired from her first job - here's why!
While her team is taking off the top part of her costume, Zoe is seen applying a blue lotion to rub off the green body paint. "Hair up! What goes on, must come off! Adios Gamora… for now at least! Ha," she captioned the video, tagging make-up artist Vera Steimberg and effects artist Will Huff.
According to the actress, the amount of time it takes for her to get in and out of costume has been slowly dwindling throughout the films. The first one took five hours, but she revealed to Metro U.K that the process went down to fours hours for Guardians of the Galaxy Vol. 2. And as seen on her Twitter, the team was eventually able to get the whole transformation done in three hours.
The last we saw of Gamora in Avengers: Infinity War was that she was (SPOLIER ALERT) dead, but the actress is slated to return for the next film in the Marvel cinematic universe.