Ending up in the hospital while on your honeymoon certainly isn't ideal, but that's just what happened to Kaley Cuoco and Karl Cook. After tying the knot in a romantic ceremony on June 30, the 32-year-old The Big Bang Theory star swapped her whimsical wedding dress for a hospital gown. "When your 'honeymoon' is shoulder surgery and your husband looks just as happy lol on the road to recovery," the actress wrote on Instagram alongside a hospital selfie on Thursday, July 5. "Thank you for all the love and support!" she continued. "Knowing @mrtankcook I'm sure he will be posting tons of hilarious gems… thank god my hair color is on point."
Kaley Cuoco ended up in the hospital during her honeymoon Photo: Instagram/@mrtankcook
Kaley definitely knows her man, as shortly after she took to Instagram, he did in fact post his own "gem". The 27-year-old equestrian shared a photo of Kaley looking pretty miserable in the hospital with the caption: "Everyone has their own version of a newlywed glow….well @normancook yours is memorable #shouldersurgeryhoneymoon."
GALLERY: KALEY CUOCO AND MORE STAR WEDDINGS OF 2018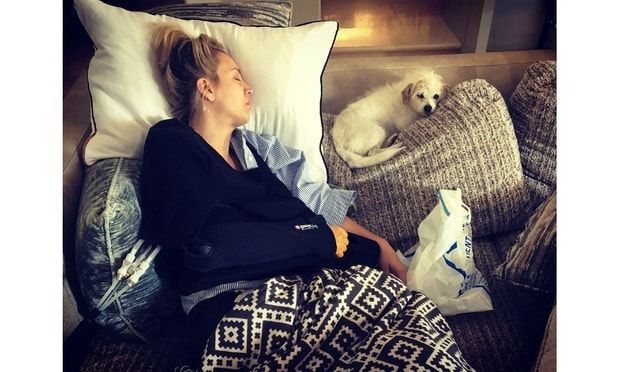 The Big Bang Theory star needed lots of R&R after surgery Photo: Instagram/@normancook
Karl also posted a hysterical clip of his wife post-operation, showing her snoring during a car ride as she sported a black arm brace. "@normancook snoring like a distressed walrus. I love you so much honey but wow! #shouldersurgeryhoneymoon," he wrote along with the video.
MORE: Kaley Cuoco reveals what Jennifer Aniston smells like and you might be surprised
Despite his joking around, Kaley highlighted how her husband stepped up to help her during this tough time. "All I'm asking for is a top knot ponytail because I can't," she said in a series of videos posted to her Instagram Story. "No, I want a top knot bun, please don't mess this up," she continued to say to her new husband who tried his hand at styling her hair. Kaley has yet to reveal what caused the surgery.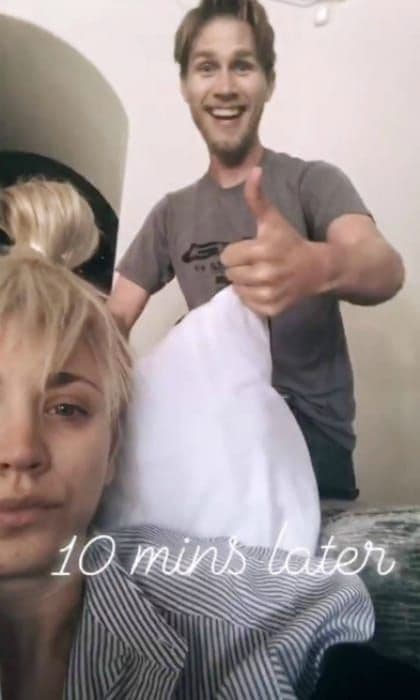 Kaley's new husband Karl tried his hand at doing her hair Photo: Instagram/@mrtankcook
The happy couple were married at horse stables near San Diego just five days prior to the hospital visit. Their stunning barn-chic affair took place in a two-story tent, and featured: a tunnel made of lights, a mini Sephora beauty room, Cigarette girls (who swapped cigs for candy), live pop rock band The Junebugs, a fabulous ice luge and many more lavish details. KC and KC got engaged on the actress' birthday in November of 2017, after dating for nearly two years.