Kate Hudson has revealed that she's expecting a baby with boyfriend Danny Fujikawa! On Friday, the actress made the announcement via her Instagram page with a sweet video. Along with the clip she wrote: "SURPRISE!!! 櫓 If you've wondered why I've been so absent on my social channels it's because I have never been more sick! It was the most sick first trimester of all my children. Boomerangs have made me nauseous, Superzoom is an easy way to have my head in the toilet, food instagrams make me queezy and thinking too much about insta stories made me even more exhausted than I already had been."
SCROLL DOWN TO WATCH THE BABY GENDER REVEAL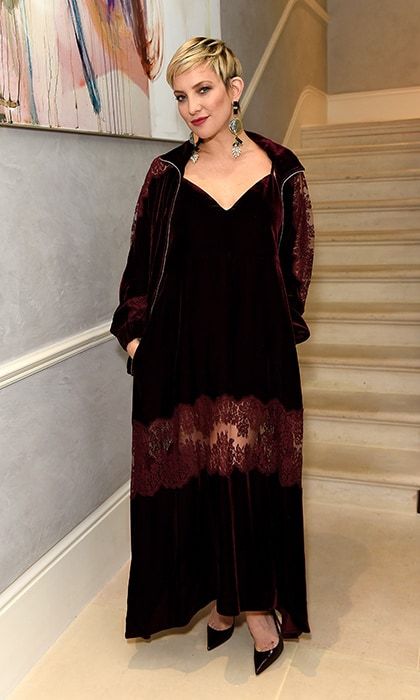 Kate disguised her bump in a flowing velvet dress on March 22 Photo: Getty Images
The star shared that she'd been powering through the serious morning sickness with a smile during recent outings in order to keep the pregnancy under wraps. "If you've seen me out and about smiling and pretending like everything is amazing...I was lying!" she wrote. "BUT! I have broken through on the other end of that and rediscovering the joys of insta/snap. We have been trying to keep this pregnancy under the radar for as long as possible but I'm a poppin now! And it's too darn challenging to hide, and frankly hiding is more exhausting then just coming out with it! My kids, Danny, myself and the entire family are crazy excited!"
RELATED: Kate Hudson shares loved-up photo with boyfriend Danny Fujikawa
And Kate even gave fans some more news with her sweet Instagram post – the gender reveal! "A little girl on the way", she wrote along with a pink heart emoji. The Hollywood star is already mom to 14-year-old Ryder Robinson, whose dad is The Black Crowes singer Chris Robinson, and six-year-old Bingham Hawn Bellamy, son of Muse's Matt Bellamy.
RELATED: Kate Hudson says shaving her head was 'liberating'
Kate first met Danny when she was 23, and pregnant with her first son Ryder. The couple started dating in December 2016, but managed to keep their romance out of the public eye until the following March, when rumors started to circulate after the pair were pictured kissing while enjoying a lunch date in L.A. The loved-up couple then made their red carpet debut together in May of last year, at the Hollywood premiere of Snatched.