When it comes to choosing a new nail polish it is hard to beat a classic pale pink, a royal and celebrity favorite which suits all skin tones and looks elegant on any nail shape. There are also an amazing variety to choose from, from near-white shades to soft petal hues and peach tones. So here's a roundup of the best pink nail polishes to try. Takes some inspiration from celebrities and royals including Kate Middleton to get the look.
BALLET PINK
Super pale pinks remain a big trend, with the shade looking super chic on short, square nails. To try out the look and feel like a princess, try Essie's Ballet Slippers, $9 at essie.com, a pale pink with a sheer finish which is a favorite hue of both Queen Elizabeth II and Duchess Kate. Or for a salon-style finish, check out Illamasqua's Nail Veil in Breathe, around $16 at Illamasqua.com, a light pink with fast-drying formula that glides onto nails.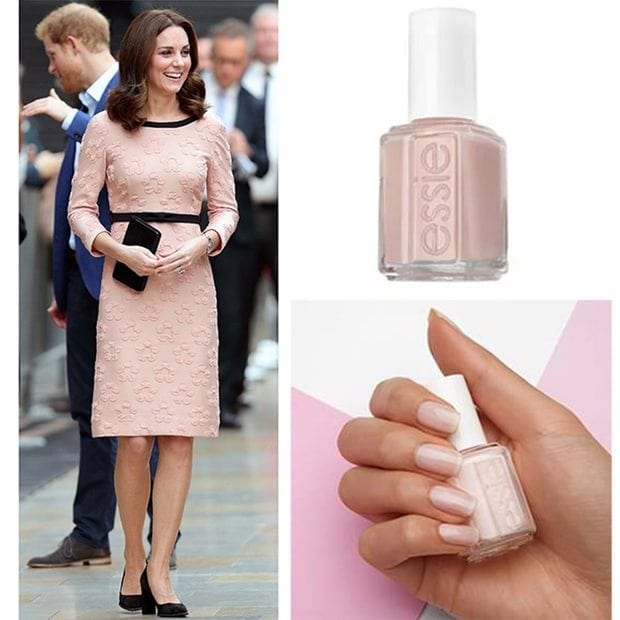 Duchess Kate is a fan of Essie's Ballet Slippers Photos: Getty Images, essie.com
BUBBLE GUM BEAUTY
Sweet and cheerful, bubble gum pinks in shades that are on the more subtle side are always on-trend. To copy the look seen on Katy Perry at the MTV Video Awards, one good choice is China Glaze's Pastels Nail Polish Collection in My Sweet Lady, $7.29 at sallybeauty.com. For optimal wear apply two thin layers depending on desired opacity and complete with a top coat for a manicure which will remain chip-free for four days. For more of a splurge, try Chanel's LE VERNIS Longwear Nail Colour in the limited edition 588 Nuvola Rosa, $28 at chanel.com.
CELEBRITY BEAUTY INSPO: STARS WEARING COLORED EYELINER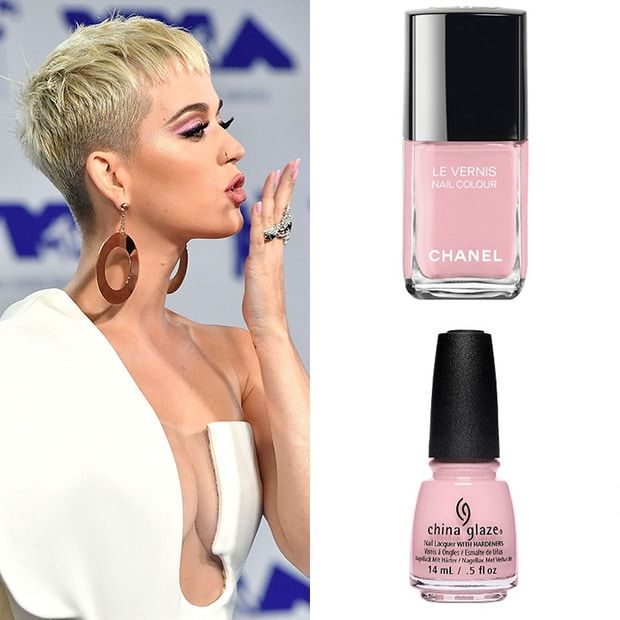 Copy Katy Perry's fun look with shades by China Glaze and Chanel Photos: Getty Images, chanel.com, sallybeauty.com
PETAL PINK
Keen to venture slightly out of nude territory? Take some inspiration from the gorgeous hues of peonies, roses and cherry blossoms. Head to your nearest cosmetics counter and seek out OPI's Passion, a soft color reminiscent of spring blossoms. For best results apply two layers of the varnish and complete your manicure with a top coat. Another great look is Saoirse Ronan's feminine manicure in Essie's Minimally Modest at the 2018 Oscars. If you want to really splash out, Dior Vernis in Tra-La-La is a totally perfect pink that offers a gel-like finish and comes with a user-friendly flat brush for flawless application.
PHOTO GALLERY: CELEBRITY MAKEUP-FREE SELFIES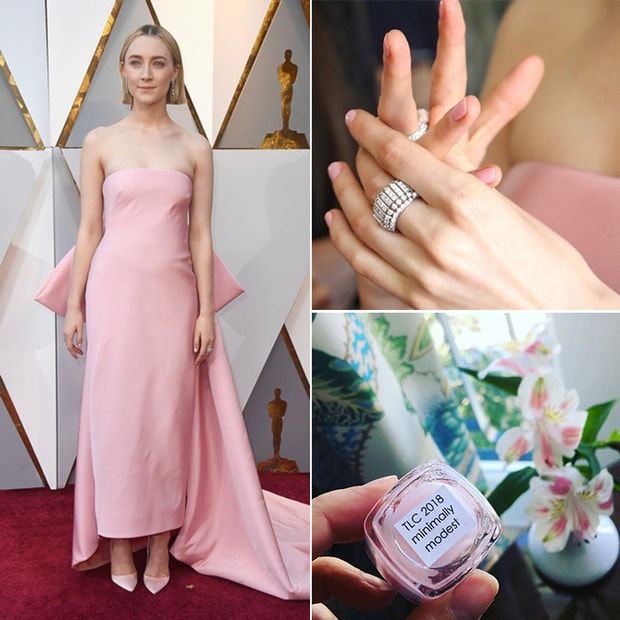 Saoirse Ronan's pretty nails perfectly complemented her Calvin Klein look at the Oscars Photos: Getty Images, Instagram/@_michellesaunders
For more on celebrity nails, click here.