Blake Lively showed she has gotten back into top shape, losing more than 60 pounds in 14 months after giving birth to her second child, Ines, in September 2016 – but she is also making it clear it hasn't been easy! The actress posted a photo to Instagram showing off her fit frame, but explained in the accompanying caption that it took a lot of hard work to get there. "Turns out you can't lose the 61 lbs you gained during pregnancy by just scrolling through instagram and wondering why you don't look like all the bikini models. Thanks @donsaladino for kickin my A double S into shape. 10 months to gain, 14 months to lose. Feeling very proud." The star's trainer, Don Saladino, whose clients include Scarlett Johannson and Blake's husband Ryan Reynolds, posted a picture of his own with a message of congratulations. "Couldn't be more proud @blakelively! 61 pounds in 14 months after baby number 2!"
RELATED: BLAKE LIVELY'S BEST MATERNITY LOOKS
Granted, mom-of-two Blake has looked amazing with or without the baby weight! The former Gossip Girl star showed off her sexy shape – and, for the first time, beautiful daughters Ines and James – in a curve-hugging Atelier Versace dress when she joined husband Ryan Reynolds for the unveiling of his star on the Walk of Fame in December 2016, just months after the birth.
TAP PHOTO FOR FULL GALLERY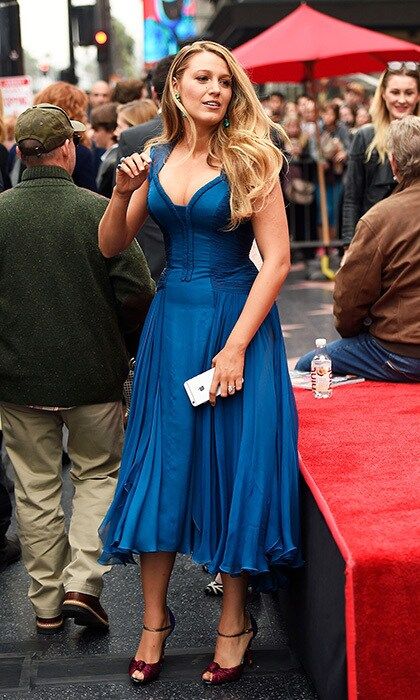 Granted, Blake was beautiful even with her 'baby weight' just months after baby Ines's birth Photo: Getty Images
GALLERY: 21 CELEBRITY MOMS IN THEIR FIRST POST-BABY APPEARANCES
No doubt Ryan was there to support Blake during her fitness journey. "I want to thank my wife, Blake, who is sitting right there, who is everything to me," he said in his speech at the Walk of Fame event. "You are the best thing, the best thing that has ever happened to me — second only to this star... You make everything better, absolutely everything in my life better. You've made me the father of my dreams when I thought I only had fun uncle potential."
RELATED VIDEO: GET INTO SUPERMODEL SHAPE LIKE GISELE