Ever wonder how 59-year-old Madonna stays so youthful looking? Well it looks like we now have a clue! The pop icon has shared a video of herself on social media demonstrating that she uses a tool that seems to be inspired by a common household item to help tighten her skin. Madonna filmed herself undergoing a 'fork facial', with her face being massaged using a fork-like tool wielded by celebrity skincare guru Tarin Skillets for the unusual treatment. In the video, the singer's face is adorned with brunette bangs and a blue bow thanks to an Instagram filter, but watchers can still see the essence of the process.
Scroll down for video
"It's amazing, look at this little facial happening with fork (sic). Forks are really good, they tighten the skin. Have you tightened your face with a fork?" she says in the video. The Grammy winner, who alters her voice to make it sound high pitched and squeaky, also joked: "Have you ever stabbed someone with a fork? I've done both. Anyway, it's crazy."
TAP PHOTO FOR GALLERY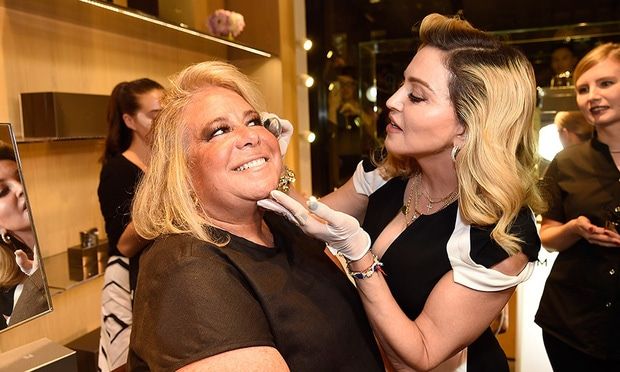 Madonna released her MDNA skincare line in the US last year Photo: Getty Images
The star captioned her post with 'Skillets Forks My Face' alongside a selection of hashtags including a shout out to her own luxury beauty line MDNA Skin, which was released in 2017. Madonna has maintained her flawless looks by following a strict skincare regime over the years, and created MDNA based on her own needs while she was touring. Her dermatologist Dr Paul Jarrod Frank previously told W magazine how the star maintains a routine that ranges from using cutting-edge products to focusing on positive vibes.
RELATED: MADONNA'S DAUGHTER LOURDES' HEALTHY WAYS AND FASHION SENSE

MORE: CATHERINE ZETA-JONES' SECRET TO PERFECT SKIN
"Madonna is dedicated to skincare and her routine of sun avoidance, her own products, regular oxygen and LED light facials, and, most importantly, staying positive and happy," he said. "All of these things have a dramatic effect on the aging process. What we agreed about most when discussing MDNA Skin was routine and dedication—consistency, simplicity, and discipline."