Think you can't bring those catwalk makeup looks to real life? Think again! Spring 2017's beauty trends are flattering, cool and most importantly, very wearable. Here are five hot looks straight from the Spring 2017 catwalks and a list of products to choose from to help you carry them off.
1) Moschino's New Nude Lip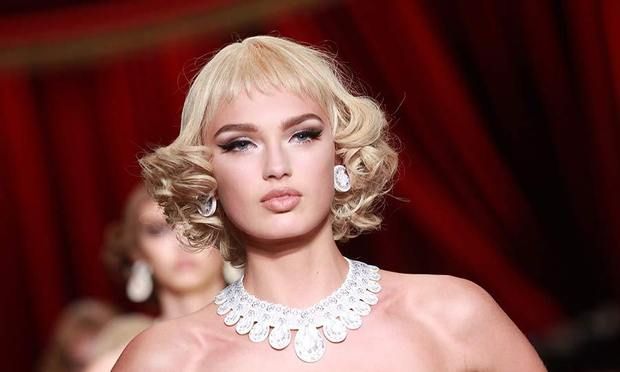 Photo: Getty Images
Bobbi Brown revolutionized lipstick when she launched her original six warm shades over 20 years ago and guess what? The brown nude lip is back and it's more beautiful than ever. Take your inspiration from the models at Moschino and team with lots of lashes and liner; this is the perfect matte modern nude. Don't go for blue based pale pinks or white out ski lips; these are hard to pull off and can leave you looking a little frozen. Instead opt for warm brown based nudes and team lipstick with liner to ensure your look lasts all day.
Try:
MAC Lip Pencil in Subculture, $17.50
Pixi by Petra Lip Contour Liner in Bare Buff, $12 at Target
Hourglass GIRL Lip Stylo in Believer and Idealist, both $32
Benefit They're Real Double The Lip in Nude Scandal, $20 at Sephora
Bobbi Brown Lip Color in Cocoa, $28
MORE: Gigi Hadid's makeup artist Patrick Ta shares his secrets
2) Carolina Herrera's Lush Liner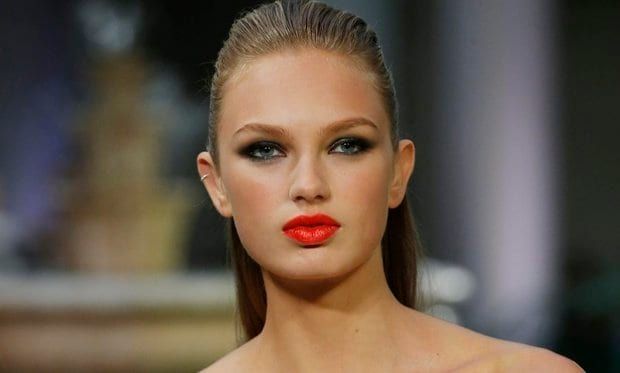 Photo: Getty Images
Eyeliner is super sized this spring, and the good news is that you don't need to master the liquid liner as this is a more smudged, less perfect and precise look. The secret lies in the eyeliner/eye crayon hybrids that you simply apply and smudge with your fingers or a short tipped brush. Take it onto both upper lips and blend out into a cat eye finish and then under both eyes. What color you choose is up to you, but darkest brown works well and gunmetal grey is gorgeous. Black is a little harder to pull off but great for dramatic evening looks.
Try:
Charlotte Tilbury Colour Morphing Eye Shadow Pencil in Bronzed Garnet, $27
Laura Mercier Caviar Eye Stick in Tuxedo, $29 at Nordstrom
L'Oréal Infallible Eye Shadow Crayon in Forever Taupe, $7.99
Clinique Chubby Stick Shadow Tint for eyes in Curvaceous Coal, $17
3) Balmain's Subtle Skin Sheen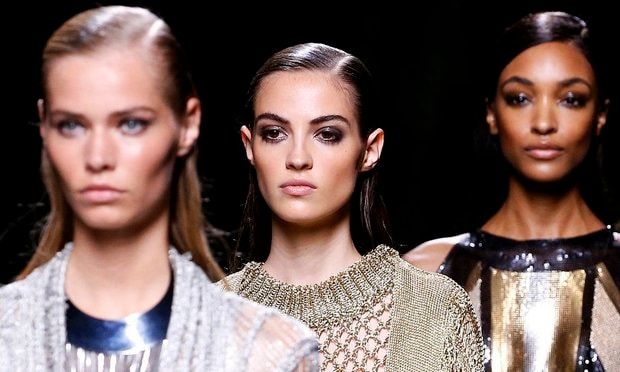 Photo: Getty Images
Is highlighter hard to pull off? Not when it is a super subtle skin sheen that simply draws light to the face. Look no further than Balmain where the original master of glowing gorgeous skin Tom Pecheux made every model's skin look lit from within and fresh from a brisk walk (a look that we all want.) For the catwalk, Tom used MAC's Studio Eyegloss on the lids and cheekbones, but there are modern lotions that give the same effect without shimmer or sparkle.
Try:
MAC Studio Eye Gloss in Lightly Tauped and Pearl Varnish, $22 each
Benefit Dandelion Shy Beam, $26
Perricone MD No Highlighter Highlighter, $35 at perriconemd.com
Hourglass Ambient Lighting Powder in Diffused Light, $46
GALLERY: Get Victoria Beckham's 'free-spirited' NYFW runway makeup look
4) Chanel's Cool Coral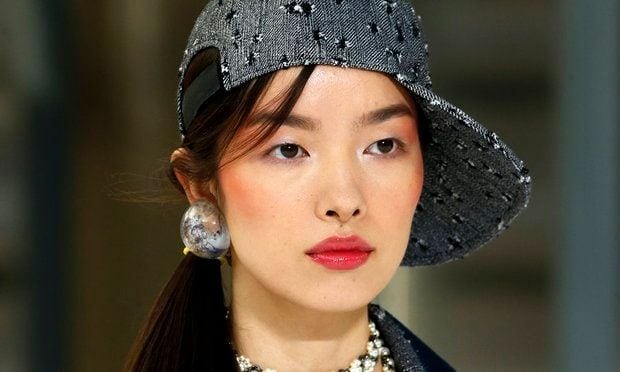 Photo: Getty Images
Coral really suits all skin tones and Tom Pecheux used it to great effect at Chanel with tonal lips and cheeks. It's the cheeks that are easiest to carry off; the perfect flush of coral not only on the cheekbones but blended up into the hairline and temples, even a touch in the eye sockets. This technique is called draping, and includes cheekbones temples and brow bones; try it for an instant flush of summer skin in spring. For this you need a soft easy-to-blend coral powder.
Try:
Chanel CoCo Code Blush Harmony, $70
Tom Ford Cheek Color in Flush, $60
Too Faced Papa Don't Peach Blush, $30
e.l.f Blush in Candid Coral, $3
H&M pressed powder blush in Coral, $9.99

Photo: Getty Images
Harsh, heavy stenciled in browns are so last year. The brushed up brow is in now; it's prettier, softer and easy to achieve. In Hollywood's golden days it was called the 'soap row' as a glycerine soap was used to define the brows and keep them in place. While you can still use something like Pears original, there are brow gels that do the job for you. Simply buy a stiff spoolie (a bristle brow brush) brush your brows up and out, and gel into place – it gives an instant face lift. Opt for tinted gels if your brows are sparse, or clear if you are blessed with naturally good brows.
Try these products to recreate the look:
Wunderbow 1 Step Brow Gel in five shades, $22
Lancome Sourcils Gel, $24 at Nordstrom
NYX Professional Makeup Eyebrow Gel (in five shades), $7 at Macy's
Stila Stay All Day Brow Gel & Brush (in five shades), $34
Tweezerman Brow Shaping Scissors and Brush, $19 at Sephora
MORE TIPS: Fast fixes for 10 common beauty mistakes (and the stars who always get it right!)