Adele is admittedly "scared" to have another child. The Someone Like You singer opened up in a candid interview with Vanity Fair about suffering from postpartum depression after the birth of her son Angelo.
The 28-year-old, who welcomed her four-year-old son in 2012 with longtime love Simon Konecki, revealed that her experiences with postpartum depression left her afraid to become a mom again. She said, "I'm too scared. I had really bad postpartum depression after I had my son, and it frightened me."
CLICK FOR FULL GALLERY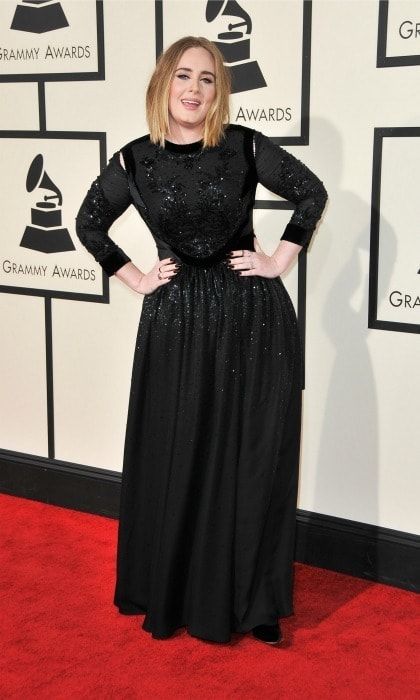 Adele says she suffered from postpartum depression after the birth of her son Photo: Sipa USA / SIPA USA/PA Images
While she did not take antidepressants to cope with her depression, the mom-of-one was hesitant to talk to others about her condition. "I didn't talk to anyone about it. I was very reluctant," Adele confessed.
The British songstress continued, "My boyfriend said I should talk to other women who were pregnant, and I said, 'F-ck that, I ain't hanging around with a f-ckin' bunch of mothers.' Then, without realizing it, I was gravitating towards pregnant women and other women with children, because I found they're a bit more patient. You'll be talking to someone, but you're not really listening, because you're so fuckin' tired."
Adele's son Angelo watches her on stage
The turning point for the Grammy winner's depression came during a conversation with a fellow mom friend. "One day I said to a friend, 'I f-ckin' hate this,' and she just burst into tears and said, 'I f-ckin' hate this, too.'And it was done. It lifted."
Adele explained, "My knowledge of postpartum—or post-natal, as we call it in England—is that you don't want to be with your child; you're worried you might hurt your child; you're worried you weren't doing a good job. But I was obsessed with my child. I felt very inadequate; I felt like I'd made the worst decision of my life . . . . It can come in many different forms. Eventually I just said, I'm going to give myself an afternoon a week, just to do whatever the f-ck I want without my baby."
THE CUTEST PHOTOS OF CELEBRITY KIDS
While she may feel "bad" for needing an afternoon away from her son, Adele admitted that she'd feel worse if she didn't take the time for herself. The singer said: "It makes you a better mom if you give yourself a better time. I'm enjoying touring, but at times I feel guilty because I'm doing this massive tour, and even though my son is with me all the time, on certain nights I can't put him to bed. I never feel guilty when I'm not working. You're constantly trying to make up for stuff when you're a mom. I don't mind, because of the love I feel for him . . . . I don't care if I don't ever get to do anything for myself again."
HOW ADELE OVERCAME BODY INSECURITIES
Since becoming a mother, the Hello singer has become more aware of the dangers that exist in the world and has altered her lifestyle, which includes cutting back on drinking and ceasing to smoke, in order to ensure that she is alive and well for her son as he grows up.
"I'm not as carefree as I used to be. I'm scared of a lot of things now because I don't want to die; I want to be around for my kid. I'm very cautious, whereas I was never cautious before," she said. "I would never have done anything before that would make me die, but now I go out of my way to avoid anything that is remotely dangerous—like walking along a sidewalk. I'd rather walk on the grass or a lawn, rather than the pavement, in case a car crashes into me."
Adele added, "Also, I don't go out as much as I used to. I go to very civilized dinners, and I'll go to work things when I have to, but you have to literally drag me onto a f-ckin' red carpet."
ADELE'S BEST LOOKS OVER THE YEARS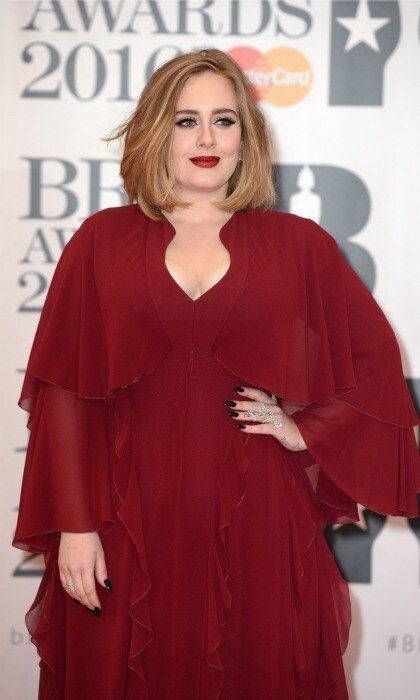 Adele calls her longtime love Simon Konecki "perfect" Photo: Hubert Boesl / DPA/PA Images
One particular person, whom she loves to spend time with is her partner, Simon. Following her vocal surgery in 2011, the singer revealed that she and her love exchanged notes that she is saving for their son. "I wrote everything down," she shared. "Which is nice, because it was the beginning of my relationship with my boyfriend, and now we have a record of all that for our kids."
Adele kicks off her tour with a special proposal
Adele, who noted that she "doesn't need marriage" is content to be in a relationship with somebody who is fourteen years her senior and not in the spotlight like her. "I have no desire to be with anyone in show business, because we all have egos," she said. "He's not threatened by any stage of my life that I'm going for, and that's an amazing thing. It's the most serious relationship I've ever been in; we've got a child together and we live together. After releasing my first album, all the other people I ever was with were so insecure about themselves—they couldn't handle it at all."
The Rolling in the Deep singer continued, "When I try to describe this to my friends they don't always get it, because they go out with people that are our age, but Simon is already who he is, and I'm still becoming who I'm going to be. He's confident. He's perfect."