Rita Ora went rocker-glam for the 2016 MTV Video Music Awards. The Body On Me singer stepped out to the hot-ticket show held at New York's Madison Square Garden in a fur trimmed motorcycle jacket and sheer black gown by Marc Jacobs that featured feathered detailing at the hemline.
"The 'straight from the runway' outfit had a 'tough meets soft' Victorian rocker feeling," Rita's makeup artist Kathy Jeung tells HELLO!. Kathy revealed that the 25-year-old's ensemble "always" paves the way for her red carpet beauty looks. "All of us on Rita's glam team get together and discuss, once the outfit is decided on, what hair and makeup best suits the look," she said.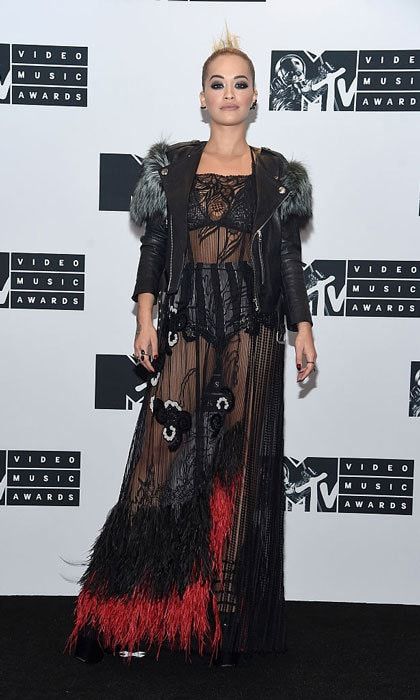 Photo: Jamie McCarthy/Getty Images
In this case, the British beauty's VMAs attire called for a smokey, metallic look. "Rita is the best makeup muse, she's game for almost anything!" the makeup guru admitted. "I love collaborating with her because she has an adventurous spirit with confidence and on point clarity. The best is that she trusts me to create and execute a makeup idea that we both feel good about."
RED CARPET LOOKS FROM THE VMAS IN NYC
Though for Sunday's edgy red carpet look, Kathy made sure not to go too goth. "I kept the skin finish polished with a shimmery glow, flushed cheeks," she shared.
Scroll below to see how Kathy created Rita's dark, romantic look, plus which products she used.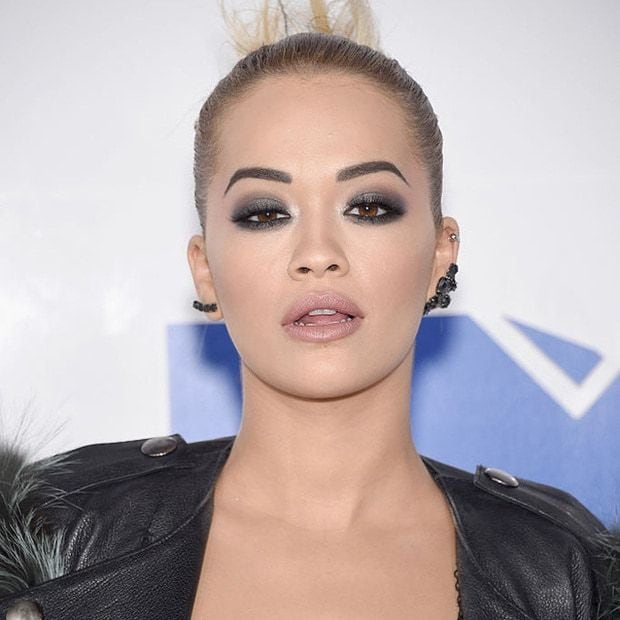 Photo: Dimitrios Kambouris/WireImage
1. Skin
First Kathy applied TOM FORD Complexion Enhancing Primer in Peach Glow all over the America's Next Top Model host's face and neck to prep, prime and add a colored glow before any actual makeup. Second, to unify the skin tone, she applied EX1 COSMETICS Invisiwear Liquid Foundation in shade 7.0 with a foundation makeup brush all over the singer's face and blended under her jaw and onto neck. It was then further blended with a damp Beauty Blender makeup sponge. Dark circles were camouflaged with EX1 COSMETICS Delete Concealer in D200 underneath eyes and applied with the ring finger in a tapping motion. Kathy then set the foundation and concealer with a light brush dusting of EX1 COSMETICS Compact Powder in 200.
2. Eyes
MARC BEAUTY Brow Wow Defining Long Wear Eyebrow Pencil in Dark Brown gave Rita's eyebrows structure and extension with soft strokes to even out the brows and to extend. Following the eyebrows, it was time to go to work on the eyes. With a rounded brush, Kathy applied beige from MARC BEAUTY Style Eye-Con No. 7 Eyeshadow Palette in 206 The Lolita all over Rita's eyelid to the brow bone, using a pointed crease brush. She then accentuated the crease with taupe color from palette. The singer's makeup artist then applied MARC BEAUTY Twinkle Pop Shimmer Eye Stick in Stardust (metallic grey) over eyelid and along the lower lashline.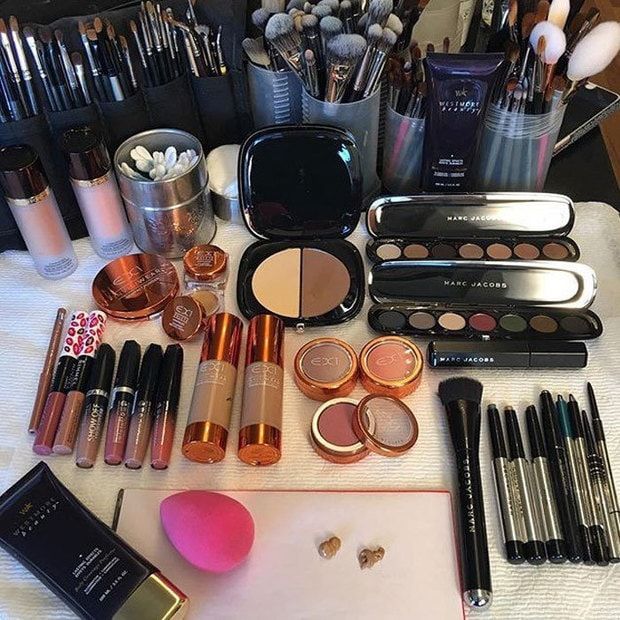 Photo: Kathy Jeung
MARC BEAUTY HighLiner Gel Eye Crayon in Blacquer was then applied along the upper lashline, lower lashline and inner rims of eyes. Kathy smudged and blended it with a brush dipped in metallic black eyeshadow from the MARC BEAUTY Style Eye-Con No. 7 Eyeshadow Palette in 208 The Vamp palette. Then, over the black pencil, she blended and added black smokiness with the black metallic color from the palette. On the inner corner of the eyes, Kathy dotted and blended MARC BEAUTY Twinkle Pop Shimmer Eye Stick in Honey Bunny (metallic pink), followed by the application of MARC BEAUTY Twinkle Pop Shimmer Eye Stick in Shoshanna (metallic green) to one-third of the inner lower lashline, blended into black shadow. Kathy completed the smokey eyes with MARC BEAUTY Velvet Noir Major Volume Mascara by applying two coats on upper and lower lashes, in addition to "FluffnEdgy" silk lashes by EYELASHES VELOUR LASHES.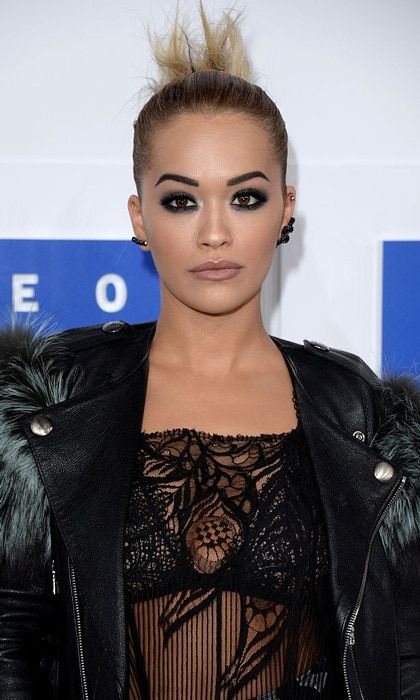 Photo: Anthony Harvey/Getty Images
3. Contour
"Contour gave sculpting and dimension to her bone structure and highlighting gave a sheen of soft focus," Kathy said. She began by applying the dark color of MARC BEAUTY InstaMarc Light Filtering Contour Powder in 40 Mirage in the hollow of Rita's cheeks, under her chin, along the jawline and blended it well to give soft sculpting. The lighter color was then used just below the contoured area to sharpen the jawline. MARC BEAUTY O! Mega Bronze in Tantric added warm to the face after being applied using a brush, to dust over the contour above the cheekbones to blend the contour. Kathy succeeded in giving Rita a rosy flushed look by applying EX1 COSMETICS Blusher in Natural Flush with a rounded brush on the apples of her cheeks. Finally MARC BEAUTY Glow Stick Glistening Highlighter was applied along Rita's cheekbones, down the length of her nose and on the clavicle bones.
4. Lips
Rita's glam look was completed with "softly tinted matte lips" using RIMMEL LONDON Provocolips 16HR Kiss Proof Lip Colour in 40 Wish Upon A Berry.