Michael Phelps may be taking home the gold during the 2016 Summer Olympic games in Rio, but his son Boomer is proving a true winner from the sidelines. On Sunday night, the very patriotic three-month-old sat in the stands with his mother, and Michael's fiancé Nicole Johnson, 31, while his father brought home his 19th gold medal and 23rd Olympic medal overall during the Men's 4x100 meter freestyle relay.
CLICK FOR FULL GALLERY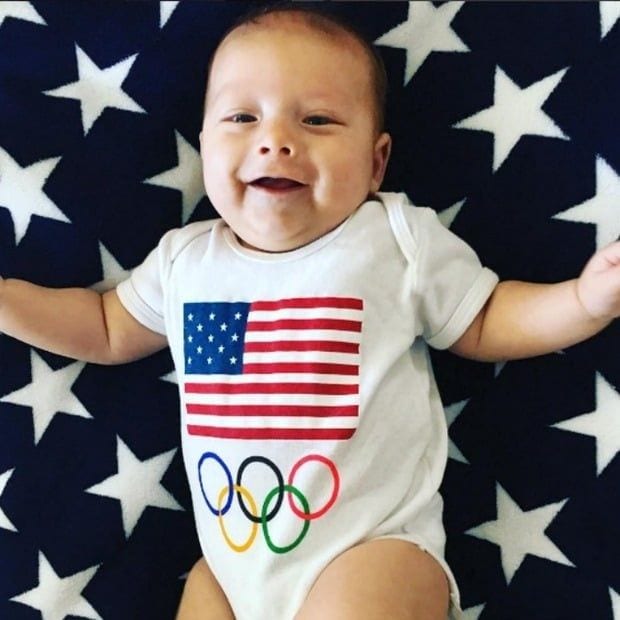 Boomer showed off his Olympic style Photo: Instagram/@nicole.m.johnson
BOOMER AND MICHAEL'S GOLD MEDAL MOMENTS
Although Boomer didn't seen to have any idea what all the commotion was for, it was obvious he was there to cheer on his father while nestled in a stars and stripes baby carrier with the letters 'MP' in blue, and wearing noise canceling headphones to protect his tiny ears.
Happy @MichaelPhelps family Boomer @MissNicoleJ @MamaPhelpsH20 #Rio2016 #TeamUSA #USA #Olympics #swimming #Baltimore pic.twitter.com/tu4pbfwlOV

— Shannon Encina (@ShannonEncina) August 8, 2016
The adorable tot shows off his style on his own personal Instagram page as well as mom Nicole's Instagram. Ahead of his father's win on Sunday, one social media pic showed him in a cute stars and stripes t-shirt and black and white bottoms.
Boomer cheers on Michael as he makes Olympic history
"I'm ready to see some more fast swimming!! Go get em daddy!!! Go get em USA!!! #usa #rio2016," the caption next to the photo of the smiling baby boy read.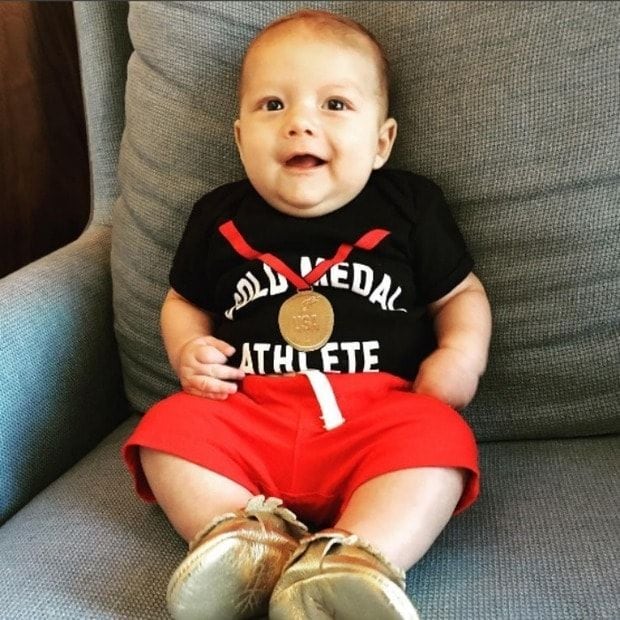 Boomer shows off his gold medal style ahead of the Olympic games Photo: Instagram/@boomerrphelps
BEST BEHIND THE SCENES PICS FROM THE OLYMPICS
During an interview with US Weekly, 31-year-old swimming champion Michael ensured fans that little Boomer will continue to set new baby fashion standards with his adorable attire. "He's going to have some cool outfits on, that's for sure. You've got to check him out," the Maryland native said. "I've gotten some photos of him — Boomer will be dressed to impress in the stands, that's for sure."