The Today show family is getting a little bigger! On Tuesday morning's program, Savannah Guthrie made the surprise announcement that she and husband Mike Feldman are expecting baby number two. "Mike and I are so excited," the 44-year-old host said during the show. "We're expecting a baby in December."
Scroll down for video
CLICK FOR FULL GALLERY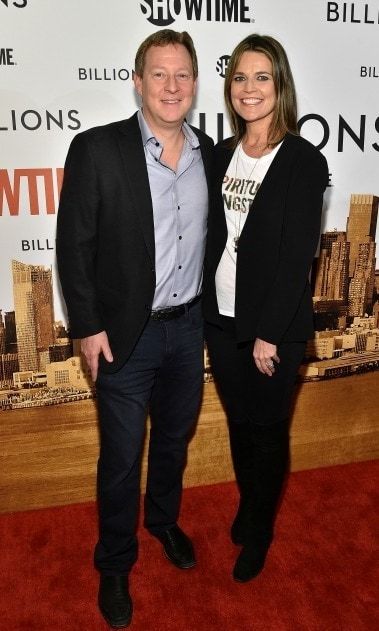 Savannah surprised her co-anchors with the news of her second baby on Tuesday Photo: Getty Images
The news came as a big surprise to Savannah's co-anchors. During a round of the Tuesday Trending Fishbowl, Savannah drew a card with the question, "Are you pregnant?" – prompting her to break the happy news. Good friend and Today co-host Hoda Kotb said that she expected something weird after going on a double date with Savannah and Mike.
"We all had wine," she recalled. "And I noticed that your glass wasn't going down. I thought maybe you just weren't in the mood!"
ALL THE CELEBRITY BABY DEBUTS ON INSTAGRAM
Savannah and Mike, 47, are parents to 21-month-old daughter Vale. The NBC anchor said that she decided it was time to break the news, because it was harder to hide her secret. "Moms have told me that the second baby pops out kind of early," she said. "So I feel like I've been popping out from beginning. I don't know where the belly fat ended and the baby begins, but I'm so excited to exhale right now."
Baby Vale's reaction to finding out she's going to be a big sister is priceless! cc: @savannahguthriehttps://t.co/MGudfUsF7M

— TODAY (@TODAYshow) June 7, 2016
While Savannah is pretty excited, it doesn't seem like little Vale is enjoying the news of becoming a big sister. In a video posted on the Today Show Twitter, the tot is seen wearing an "I was here first" t-shirt and reacting to the news.
"Do you want a new baby," Savannah is heard asking, to which Vale replies with a roaring "No."
When it comes to her work plans for the remainder of her pregnancy, Savannah has said that she will back of out of covering the 2016 Summer Olympics in Brazil under the advisement of her doctor.
"The doctors say that we shouldn't because of the Zika virus, so I'll miss it," she shared. "You're going to have to go to female beach volleyball without me, Matt. Try to carry on.
CLICK BELOW TO SEE SAVANNAH'S EXCITING ANNOUNCEMENT