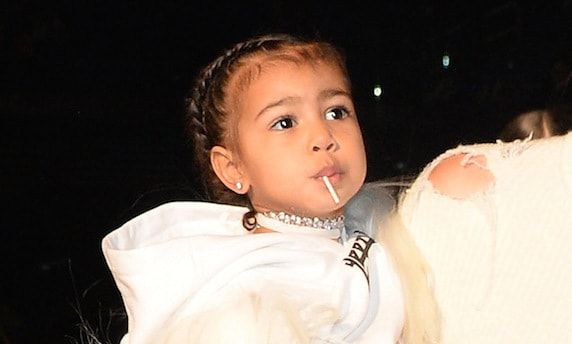 No denying North West is a Kardashian. The toddler is already following in her famous family's beauty regimen when it comes to contouring. Kim Kardashian and Kanye West's 2-year-old daughter recently put her makeup skills to the test contouring her face just like her mother.
Kim's makeup artist Mario Dedivanovic shared a photo of little North applying different foundation shades on her cheeks and forehead. He captioned the photo, "When #North steals your contour palette." Mario added, "omg."
Last year, the reality star dished on her daughter's makeup habits to Elle. "She loves makeup," Kim admitted. "If I just turn around for one second, she has my lipstick like all over her face. So I have to give her, her own little makeup bag."
She continued, "[North's] obsessed with makeup and watching me get ready and getting ready herself. She just loves the process, she could not be more ultimately girly-girl."

Saint West's big sister showed off her makeup skills back in December applying lipstick on (or rather all over) her aunt Khloe Kardashian. Khloe posted the sweet beauty session on her Instagram writing, "I'm Norths first makeup client."

Clearly she's learned well. While the budding makeup guru seems to have a handle on the beauty front, sometimes she requires the assistance of a celebrity hairstylist like her mother's, to help her get princess-ready.
North recently turned to Kim's hairstylist Jen Atkin to help her achieve the perfect topknot bun to complete her Queen Elsa costume. Jen put the "final touchups" on the toddler's Frozen dress-up look noting that North is her "Easiest client."