It's hard to believe that Christie Brinkley just turned 62, but when it comes to looking back on her long, varied and impressive career, her age becomes far more believable.
The supermodel has had quite the career since being discovered by famed photographer Errrol Sawyer in 1973. Christie has stared in films such as National Lampoon's Vacation and has graced the covers of Vogue, Rolling Stone, Glamour and has been the face for beauty giants, Revlon and CoverGirl. On top of it all, balancing being a mom to her three children Alexa Ray Joel, 30, Jack, 20, and aspiring model Sailor Brinkley-Cook, 17.
Christie, who is the author of the book Timeless Beauty, sat down with HELLO! and shared what makes her laugh, who inspires her and the makeup she just can't live without.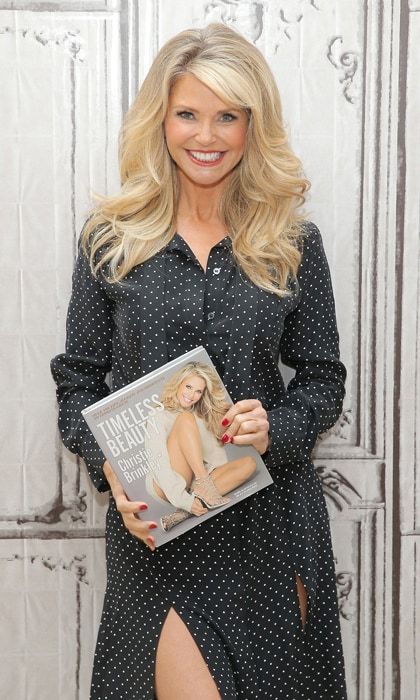 Christie released her new book Timeless Beauty Photo: Getty Images
HELLO!: What's your first career memory?
Christie Brinkley: For my first modeling job they said to bring some makeup with me. So I went to a store and I bought pink lipstick, blue eyeshadow and I said "what else do I need?" to the sales girl and she said "an eyelash curler," and I said "OK" and then I thought I'd better practice the night before my job. I put the eyelash curler on and pulled out every single eyelash! So I couldn't do the job and I had to wait for the eyelashes to grow in and my modeling agency just kept saying 'sorry she's not available, she's not available.' They thought I was negotiating! It created a demand and sort of really helped my modeling career. [Laughs]
H: Now that your beauty drawer is probably a lot fuller, do you have any makeup you can't live without?
CB: It's kind of rotating around a lot and it also depends on the seasons, but I always have blush with me. I feel like I need to sort of shape my check bones to give my face definition.
H: What does your daily beauty routine look like?
CB: I start every day the same way that I have for about the last 40 years – I exfoliate. I like to do tiny little circles all around my face. Then I just splash it all off with cold water, I feel so awake at that point. I put my moisturizer on and then I usually run downstairs and make myself a warm water with lemon. While I have that I make myself a cup of coffee, and then I usually take that with me back upstairs and start phase two where I may put on a little primer but otherwise I'll just throw on my makeup and then I'm ready for the day.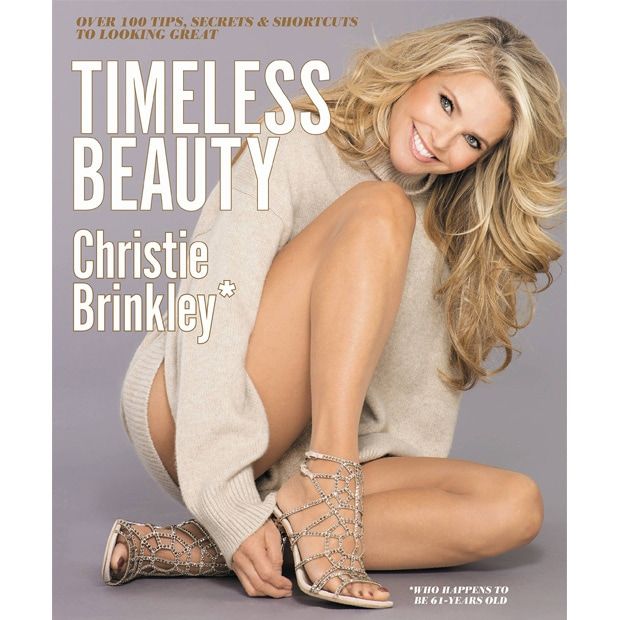 Christie shares her daily beauty routine Photo: Getty Images
H: Who inspires you?
CB: I've always been inspired by Joni Mitchell. She is the ultimate artist. She sings and she paints so she is constantly in creative mode, contributing beauty and thought and soul and heart to the world and I just think she's so beautiful for her whole being. I mean I tried to look like so many of her album covers. My penchant for berets probably comes in part from her. [Laughs] I just admire her. I love her.
H: What are some of the best tips and tricks have you learned during you career?
CB: In the beginning, because I didn't know anything about doing my own makeup – I was like a hippie girl from California – I tried to copy whoever did my makeup the day before. Before I'd wash it off I would lean into the mirror and I'd study it. So a lot of it is about blending. A lot of it is about putting a little bit more than you might imagine, but then it's blended so expertly and actually looks like less. I guess it's where you put it that matters most. If you have the right brush for the correct area it almost applies the makeup for you, so that's really important. Don't try to do your eyeshadow with a blush brush; don't try and do your eyeliner with an eyebrow brush. I've been guilty of both. [ Laughs]
H: While you've been traveling have you found beauty products that you've really enjoyed?
CB: Japan had some of the most incredible beauty items and beautiful packaging. Back in the '80s we would buy these kind of really pretty black boxes that had space in them and then we'd buy lipstick and just cut chunks of the lipstick and squish them down into these little squares and create our own palettes. That's where all that palette stuff came from, nobody was doing it yet.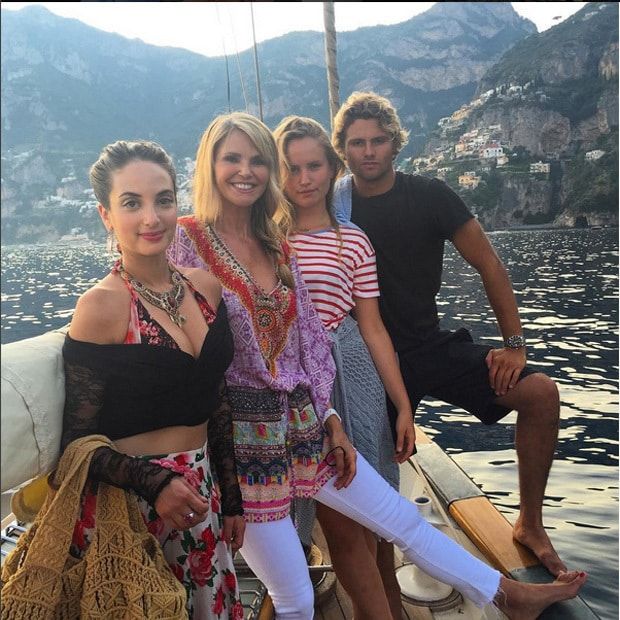 Christie says her children are the reason she smiles Photo: Instagram/@christiebrinkley
H: In your book you talk about the importance of smiling. What makes you smile?
CB: Well just about everything makes me smile. [Laughs] At this point in my life, I am just so full of gratitude and appreciation for everything. I just looked out the window and I have a golden ginkgo tree and I smile every time I look at those beautiful yellow leaves. And, of course, my kids have me smiling all day long.
H: Why is it so important to smile?
CB: Just putting your lips in that position, you will feel a little ripple, almost like a giggle flow through your body and that's your body releasing a very powerful hormone, the same one that you get from jogging – an endorphin. That will lift your spirits. To me a smile is the best thing you can put on your face.
H: Do you have any tips for taking a good selfie?
CB: I always put my camera in my right hand and I reach it out as far as I possibly can and I turn toward whatever light source. Light is your friend. If I see overhead lighting I avoid it like plague – it's the worst light. It's harsh. Think elevator lighting.
H: Did you have an "ah-ha" moment in your career when you realized you'd really made it?
CB: I think oddly enough my "ah-ha" moment was probably about seven years ago when I got on Facebook and all of a sudden people started sending pictures of me. People were going: "this is my favorite picture of you, I remember this," and then people would write about it. And it was the first time that I realized that people actually knew who I was. [Laughs]