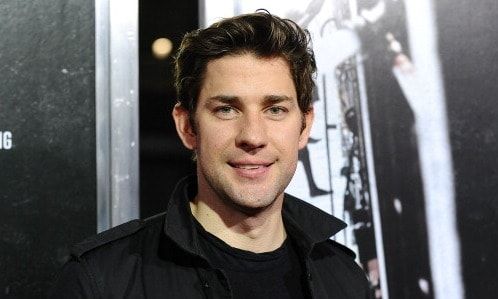 From The Office's Jim Halpert to a Navy SEAL! The star of 13 Hours: The Secret Soldiers of Benghazi's John Krasinski showed off his buff physique on the cover of Men's Health magazine's January/February 2016 issue, though the swoon-worthy actor revealed it was not easy getting into shape.
"I gotta be honest: It was brutal at times," the 36-year-old told the magazine. "We did tons of metabolic work, dragging sleds and all this stuff I've seen NFL players do."
Thank you to @MensHealthMag for putting this dude on the cover. pic.twitter.com/S3lmd5g0Qr

— John Krasinski (@johnkrasinski) December 16, 2015
Despite it being a challenge to transform his body, John said, "Getting stronger every day is thrilling." Emily Blunt's husband only had four months to get into seal-ready shape, so to prepare for the taxing role, he enlisted the help of celebrity trainer Jason Walsh.
And the training certainly paid off. John smolders on the cover of the men's magazine showing off his bulging muscles in a black tee.
As far as his favorite workout goes, John revealed he enjoys bench pressing. He explained, "There's that number you can keep pushing. It's almost a game instead of a workout."
... And for finding my shirt JUST after this picture was taken. Thank you @MensHealthMag pic.twitter.com/sZxsuqUiI7

— John Krasinski (@johnkrasinski) December 16, 2015
But it couldn't all be fun and games. John admitted there is one workout that he is not keen on doing: the "Bulgarian split squat," which involves doing a 1-legged squat with a rear foot elevated.No easy feat!
Thankfully for John, working out is easier when you have a fun playlist. The Office alum admitted his go-to workout track is "What More Can I Say" by Jay Z. Well, looking at the results of the actor's workout has probably left more than one fan speechless!
13 Hours: The Secret Soldiers of Benghazi' hits theaters January 15, 2016.