Rich in antioxidants and a powerful warm-up on chilly days, the ancient Japanese brew matcha seems to be heating up from coast to coast with today's celebrity set. Ashley Olsen was spotted powering through the streets of West Village clutching a matcha-to-go, while matcha shots were also the 'It drink' at New York Fashion Week. Last but certainly not least, Hollywood's most famous green-leaf devotee Gwyneth Paltrow instagrammed a pic of herself and the potent pick-me-up, and the snap clocked her over 21,000 likes.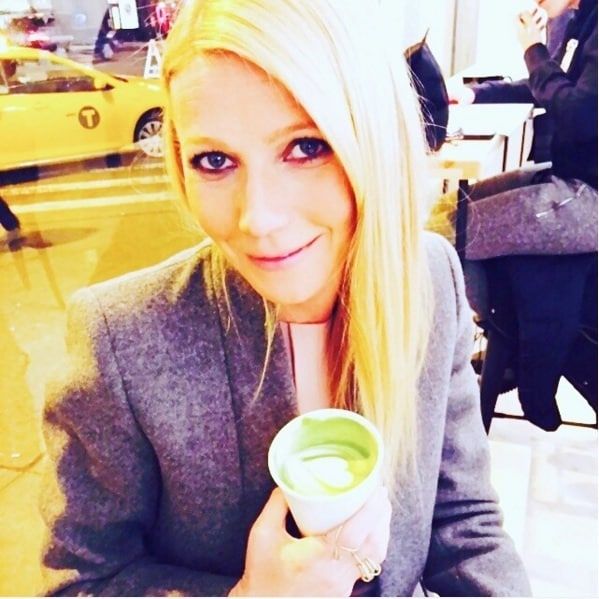 'New dreamy discovery to warm up a wintry day…' said Gwyneth after a visit to NYC's Chalait Photo: Instagram/@gwynethpaltrow
And now Manhattan's gluten-free wellness guru, Hannah Bronfman, whose breakfast consists of hot lemon and water and kale smoothies, has been helping to boost its budding cult status. "As someone who doesn't drink coffee, matcha is a great way to get energy in the morning – minus the jitteriness or headache that concentrated caffeine in a cup of joe is notorious for," said Hannah, who became engaged to fellow DJ and brand ambassador Brendan Fallis in August.
More recently, Hannah turned brand ambassador herself and introduced Sharp Electronics' Tea-Ceré matcha maker, which grinds the tea leaves and prepares the 'latte' making it a cinch for fans to get their daily fix before leaving the house in the morning.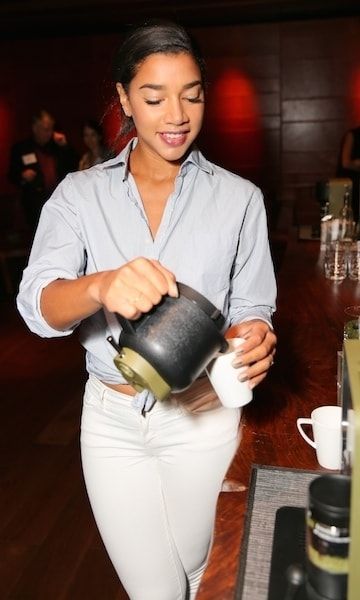 Hannah brews up a 'latte' with the help of a Tea-Ceré matcha maker Photo: Sharp
Used by Japanese monks in the 12th century for its calming properties and by Samurai warriors 100 years later for endurance, matcha is basically ground green tea leaves added to hot water and frothed into a 'latte'. It tastes like grass or spinach, although health-conscious Gwyneth has described it simply as "dreamy."
Rich in antioxidants called polyphenols, possible health benefits include protection against heart disease, the regulation of blood sugar, the lowering of blood pressure plus slowing the aging process. Meanwhile, the polyphenol called epigallocatechin-3-gallate (EGCG) is said to boost metabolism and put the brakes on cancer cell growth.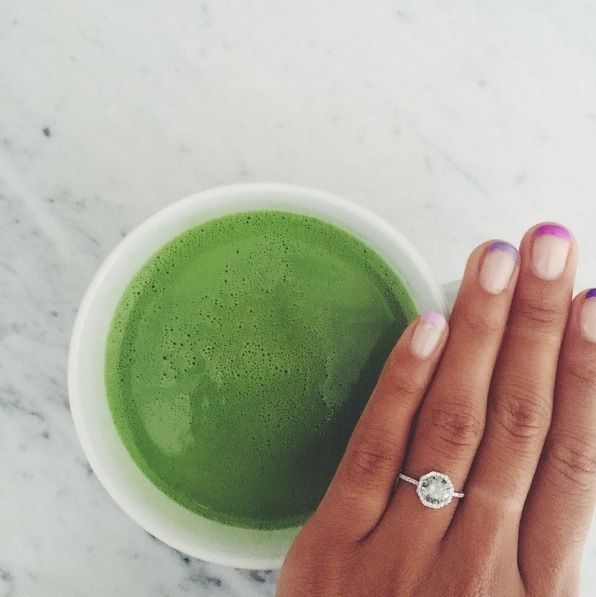 Hannah shows her engagement ring – and some matcha love – on Instagram, writing: "Matcha mornings just got a whole lot sweeter" Photo: Instagram/@hannahbronfman
"Green tea is known for its high antioxidant content, particularly from its polyphenolic compounds which may have anti-inflammatory, anti-carcinogenic, anti-diabetes and heart healthy effects," New York dietitian, radio host and author Samantha Heller tells HELLO!. "Matcha tea has higher concentrations of these compounds. However, it may also have higher levels of caffeine and possibly of contaminants... It should be consumed in its pure form and enjoyed in moderation."
The key, then, is to buy organic and stick to one very small cup a day. Easy! In fact, Hannah has even put together some matcha recipes, so now we know what her fiancé can expect to find when he opens the cookie jar. Click here to try Hannah's matcha bakes!