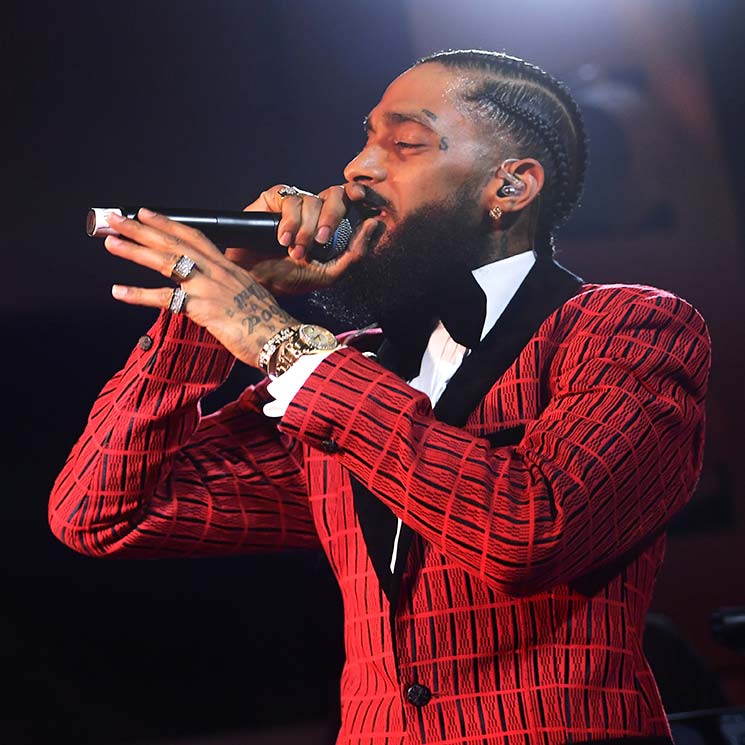 As fans and loved ones – including Cardi B and Rihanna – mourn Grammy-nominated rap star Nipsey Hussle, killed in a Los Angeles shooting on Sunday, March 31. John Legend shared he was one of the last to work with the Racks rapper, filming a video with him and DJ Khaled on Thursday. "RIP Nipsey. I just spent Thursday with him filming a video for a beautiful new song we created with Khaled," John tweeted. "We filmed in Inglewood, close to where he grew up. He was so gifted, so proud of his home, so invested in his community. Utterly stunned that he's gone so soon."
The 33-year-old rapper, whose real name was Ermias Davidson Asghedom, was shot dead near his shop Marathon Clothing in Los Angeles. He leaves behind his longtime love Lauren London, and two children, Kross, two and seven-year-old Emani Asghedom.
The rap artist and philanthropist brought his daughter to the Grammys in February. He was nominated for Best Rap Album
DJ Khaled had shared pictures of their video shoot on Instagram days earlier, showing him and Nipsey standing in front of a blue house, with the rapper wearing a blue silk shirt and matching tailored trousers. "Bless up @nipseyhussle nothing but luv FATHER OF ASAHD MAY 17," he wrote in the caption, sharing that their collaboration will appear on his upcoming album.
Cardi B led tributes to the late star, who was known for his charity work, writing on Instagram, "What a sad day. Rip to a real stand up guy! a great representation of positivity and change to the community. May the Lord give your family strength You cant kill love and you can't kill respect. Stream and buy his music support the business and keep the music alive!"
Nipsey Hussle, right, with girlfriend Lauren London and Diddy, center, at the 2019 Roc Nation brunch earlier this year
Rihanna also expressed her grief on social media, posting a selection of family photos of the rap star with the caption: "This doesn't make any sense! My spirit is shaken by this! Dear God may His spirit Rest In Peace and May You grant divine comfort to all his loved ones! I'm so sorry this happened to you @nipseyhussle."