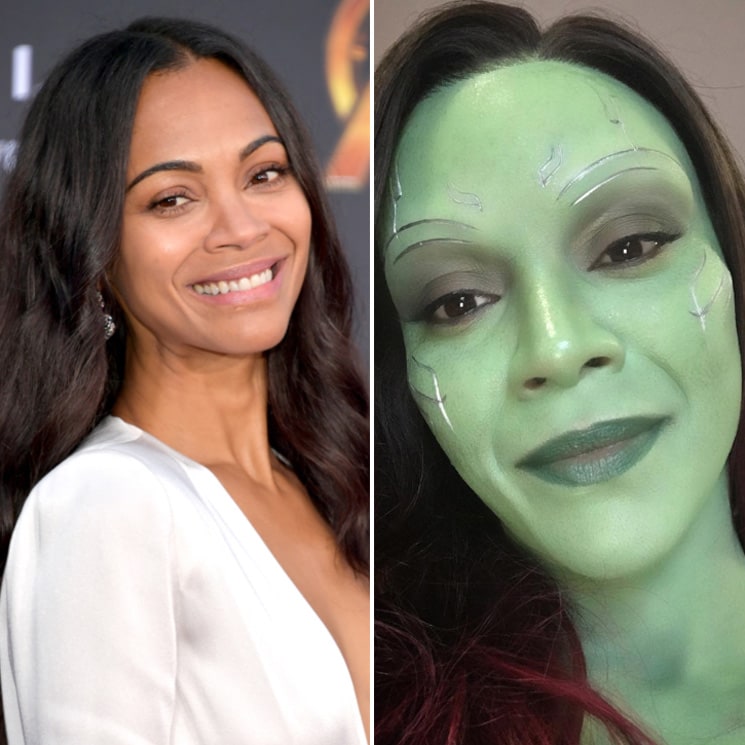 When Zoe Saldana isn't representing Latina girl power and looking straight up flawless in our Latina Powerhouse issue, she's playing Gamora (a green-skinned member of the alien race known as the Zen-Whoberi) in the Marvel universe. In the last Avengers movie, her character (spoiler alert!) literally fell to her death, but the actress shared a character poster on her Instagram, possibly hinting that Gamora is alive in the latest chapter from the Marvel franchise, Avengers: Endgame.
Zoe Saldana shared her character poster for Marvel's Avengers: Endgame on Instagram, hinting that Gamora may still be alive
Besides Zoe's character poster, Marvel also released posters for the rest of the Avengers. The superheroes that came out alive in the last movie are featured with color, while the fallen superheroes are colored grey. So what could it mean?!
MORE: Watch Zoe Saldana's striking before and after makeup transformation
Well, if you follow Zoe on the 'gram, then you know that a few days ago, she posted a video of herself getting in and out of the iconic green makeup. If this is any indication, then it's likely that she'll make an appearance as the character one last time.
Fans sounded off in the comments and began to theorize at Gamora's fate. "U giving away the movie. U suppose to be dead," one follower wrote. Another simply asked, "Wait... Does that mean you're in Endgame? 🤔," while another user exclaimed, "I WANT GAMORA BACK TO LIFE!!!"
Until then, scour for more clues in our April issue, where Zoe talked about juggling work and family life. "Besides working and building a business, I'm still creating art with my family," the Guardians of the Galaxy actress said. "I'm pretty swamped right now being a new mom to three rambunctious boys! I feel I'm a full-time everything!"
What was she swamped with filming Avengers: Endgame? Find out in one month when the highly-anticipated blockbuster hits theaters!
Avengers: Endgame opens in theaters April 26.