In between his The Man of the Woods tour performances, Justin Timberlake is bent on exploring all of London's greatest hits. The 37-year-old superstar seems to be taking full advantage of his downtime, seeing all of the English capital's sights and even paying some homage to the royal family. The Say Something singer took to his Instagram story to share an upward shot of the Royal Air Force's centenary flypast on Tuesday, July 10. Adding a "100" sticker to the photo, Justin gave a nod to the royal family's 100th birthday celebrations of the RAF. In another regal move, the entertainer then sat in the royal box with his stunning wife Jessica Biel to watch a Wimbledon match, where the pair put on a loved-up display.
CLICK FOR FULL GALLERY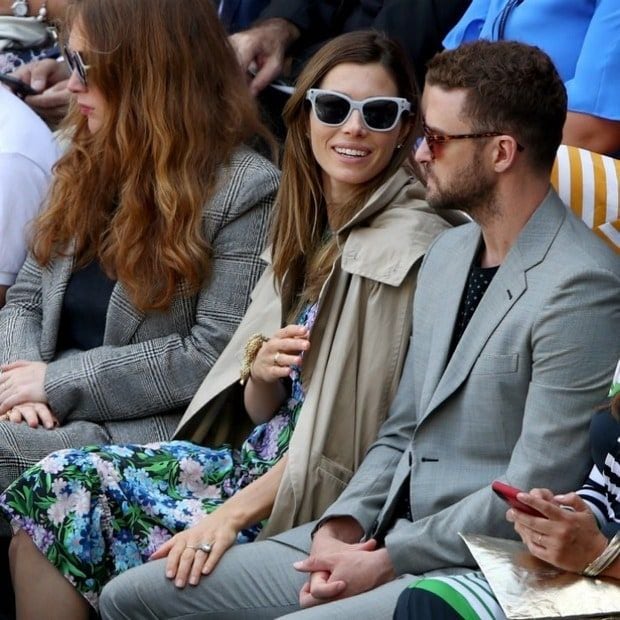 Royal treatment! Jessica Biel and Justin Timberlake sat in the royal box at Wimbledon Photo: Clive Brunskill/Getty Images
The A-list couple, who are often seen in the stands of the US Open together, showed their love of tennis as they excitedly cheered on Serena Williams from Centre Court during day eight of the championships at All England Lawn Tennis and Croquet Club. The happy pair also showed their love for each other, stealing sweet glances and affectionate moments throughout the game. For one thing, Jessica lovingly kept her hand on Justin's leg when she wasn't clapping for the American tennis star.
GALLERY: JUSTIN TIMBERLAKE AND JESSICA BIEL'S MOST LOVED-UP MOMENTS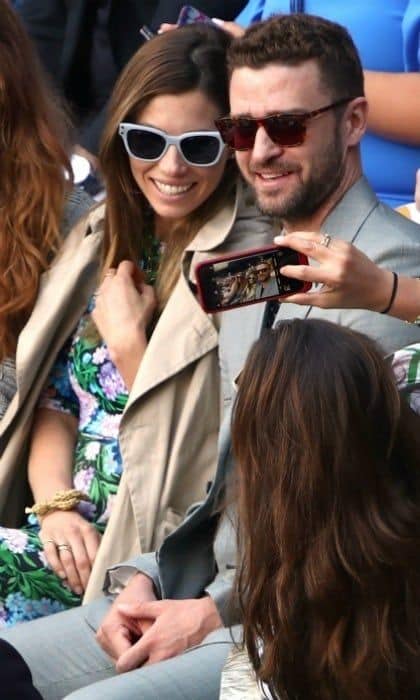 The A-listers made sweet memories during the match Photo: Clive Brunskill/Getty Images
As per usual, Justin and Jessica cut stylish appearances, each rocking sleek pairs of sunglasses and shimmering smiles. The 36-year-old star of The Sinner especially popped in a bright floral-print dress, which featured hues of lavender, sapphire and lime against a contrasting black undertone. To complete the look, she threw on a tan trench coat and accessories like: several stud earrings and an exquisite gold-wrapped bracelet.
GALLERY: ALL THE BEST PHOTOS OF STARS AND ROYALS AT WIMBLEDON 2018
The couple made it clear they were rooting for Serena Williams Photo: Michael Steele/Getty Images
Suit & Tie crooner Justin went sans the latter half of his signature look. The dad-of-one donned a tailored light grey suit, which he dressed down with a more casual tee underneath that featured grey dots. Whilst Justin remained patriotic in his support for Serena, he revealed on Instagram earlier in the day that he would be backing England in the World Cup.