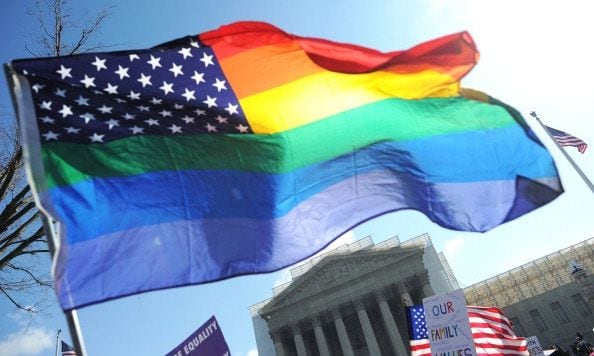 In a 5-4 ruling, the Supreme Court ruled in favor of same-sex marriage across all 50 states. The decision was met with cheers and tears and reactions from Hollywood in support of SCOTUS ruling, President Barack Obama tweeted:"Today is a big step in our march to equality. Gay and lesbian couples now have the right to marry, just like everyone else. #LoveWins"
In a day that will go down in history, actors, musicians, politicians and other celebrities took to social media with the hashtag "love wins" to express their excitement about the decision.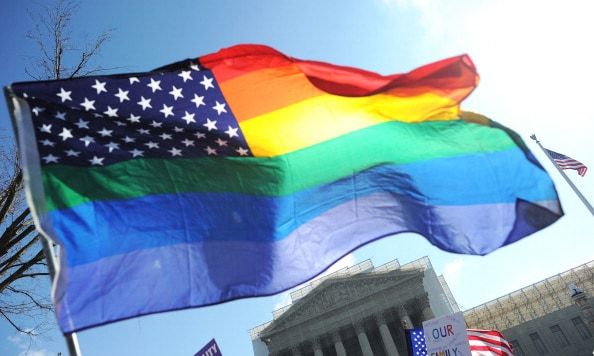 Photo: Getty Images
"We are so proud to be American today," instagramed Lance Bass with a picture of him and his husband, "All of our LGBT brothers and sisters can now love freely! TY #SupremeCourt."
After taking to Twitter to announce the decision, President Obama held a press conference on the historic ruling. "This ruling will strengthen all of our communities, by offering all loving same-sex couples the dignity of marriage across this great land," he said in his speech.
After the speech, Kelly Osbourne took to her Instagram account to thank the President for his words. "Thank you @barackobama that was one of the best speeches you have ever given!!!!"
Celebrities from Kate Hudson to Anderson Cooper reacted to the decision. See all the love below:
Hugely emotional that marriage equality has finally come to the U.S. History! Love ALWAYS wins. ❤️❤️❤️

— Jesse Tyler Ferguson (@jessetyler) June 26, 2015
Supreme Court rules right to marriage is a "fundamental right" and same sex couples can't be deprived of that right

— Anderson Cooper (@andersoncooper) June 26, 2015
ALL love will be recognized and celebrated. https://t.co/4RGKSVGF3W

— Troian (@SleepintheGardn) June 26, 2015
#LoveWins https://t.co/0i7qMIQGvH

— Leah Remini (@LeahRemini) June 26, 2015
Awesome day for America!  #MarriageEquaility #BoutTime pic.twitter.com/0MB60ZNy85

— Nicole Polizzi (@snooki) June 26, 2015
#LoveWins Today is a huge step forward for our country, and my family. I'm so grateful and happy! #SCOTUSMarriage

— Matt Bomer (@MattBomer) June 26, 2015
We are so proud to be American today! All of our #LGBT brothers and sisters can now love freely! TY #SupremeCourt! pic.twitter.com/RO10N8knfj

— Lance Bass (@LanceBass) June 26, 2015
Love won. #MarriageEquality

— Ellen DeGeneres (@TheEllenShow) June 26, 2015
So much more work to do but no matter how long it takes, in the end, #LOVE will always prevail. Bravo #SCOTUS #NOH8 #ChooseLove. Now go get married wherever the hell you please. ❤️❤️

Posted by Jussie Smollett on Friday, June 26, 2015