Kylie Jenner has given us major nail envy with her latest Barbie-inspired nails. The reality TV star posted an Instagram picture flaunting her bright pink nails adorned with Barbie stickers and symbols. Accompanying the picture, Kim Kardashian's little sister wrote: "Thank you @britneytokyo for coming to the house today to do our nails for Jordyns birthday! I love my Barbie nails".
The colorful, girlie look is a change of style for the 18-year-old, who often chooses plain matte colors for her long, squared-off nails.
Kylie Jenner opted for bright pink nails with Barbie motifs Photo: Instagram/@kyliejenner
Several hours after sharing the pic of her cool new manicure, Kylie posted a picture of Jordyn standing next to the luxury present that she had given the lucky birthday girl: a black Mercedes-Benz.
It has been a whirlwind time for Kylie, who graduated just two months ago. She celebrated her 18th birthday, made several high profile appearances at the VMAs and New York Fashion Week and even launched her very own app.
The 18-year-old is known for experimenting with her hair and makeup Photo: Getty Images
Since its release on September 14, Kylie's app has reached number one on the iTunes app chart, beating Facebook Messenger, Instagram and Snapchat. The app, which costs $2.99 per month, allows fans to view content such as the star's clothes, makeup and her favorite up-and-coming fashion looks from the runway.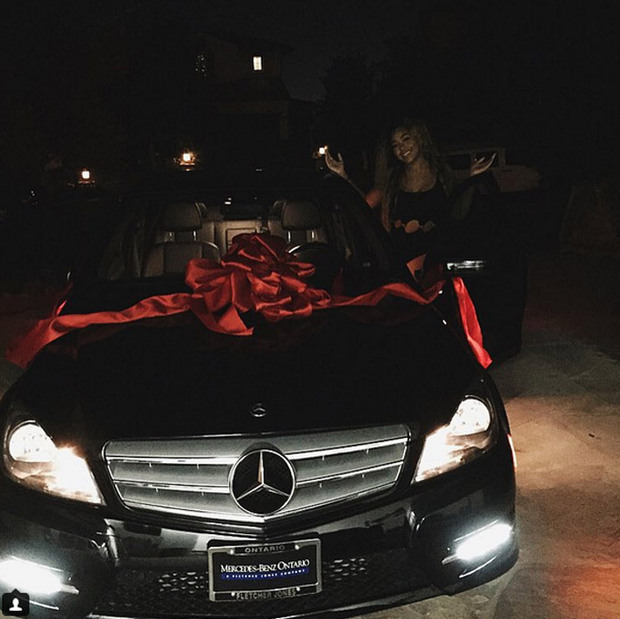 By the looks of this Instagram post, Kylie bought her friend Jordyn a car for her 18th birthday Photo: Instagram/@kyliejenner
It seems all is going well for Kylie in her personal life, too. The teenager went public with her boyfriend Tyga when she turned 18, and the pair appear to be going strong.
The couple sent the rumor mill into overdrive on Wednesday when Tyga referred to the young business woman as his "fiancée" in a Snapchat video released from her account. "It's just me, my fiancée, this lil' dog I just got," said the 25-year-old while being filmed by Kylie.