Eyeliner is vital if you want to make a statement with your make-up. But instead of opting for a standard black, why not try experimenting with something brighter? Stars like Margot Robbie, Jessica Williams, and Demi Lovato have rocked the bold eyeliner trend. For an international twist, we spoke to some of the U.K.'s top make-up artists to get their tips for mixing things up with your everyday look. "Eyeliner is a great way to add a bit of drama and glamour to your make-up look," Denise Rabor, International Make-up Artist and Founder of WOW Beauty, told us. "Eyeliner looks great when paired with a minimal face and/or statement lip and there are so many different eyeliner shades to choose from, you don't need to stick to black!"
When it comes to choosing the right hue for you, Denise shared her thoughts on picking the perfect color to suit your own look. "Try blue for a fresh spring/summer feel, which is great for making dark eyes stand out and appear brighter or a bright pink or purple shade for a pop of color and to give your make-up a more fun look," she explained.
CLICK FOR OUR GALLERY OF CELEBRITIES ROCKING BRIGHT EYELINERS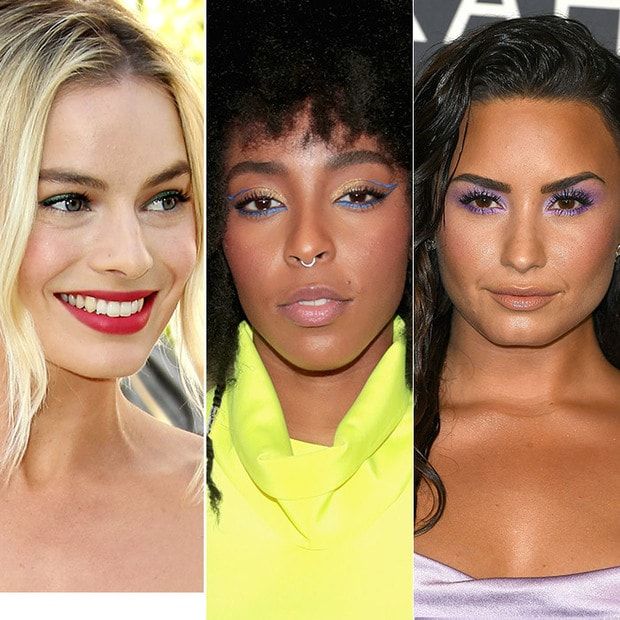 Both Margot Robbie and Jessica Williams have been spotted rocking the blue eyeliner trend. Margot wore Chanel eyeliner at her Peter Rabbit film premiere, while Jessica paired a bold blue lower lid with an upper yellow liner at the Universal Music Group's Grammy's After Party.
GALLERY: TRY THESE SIX CELEB MAKEUP TRENDS FROM THE RED CARPET
Stars Kerry Washington, Olivia Munn, and Dianna Agron are also big fans of the bright eyeliner trend. Kerry rocked a dark cat-eye at the GLSEN Respect Awards, using Neutrogena products, while Olivia wore a teal Morphe Cosmetics shadow under her eyes at the The LEGO Ninjano Movie premiere. For anyone that's a little nervous about trying out adventurous colored eyeliner, Denise has got you covered!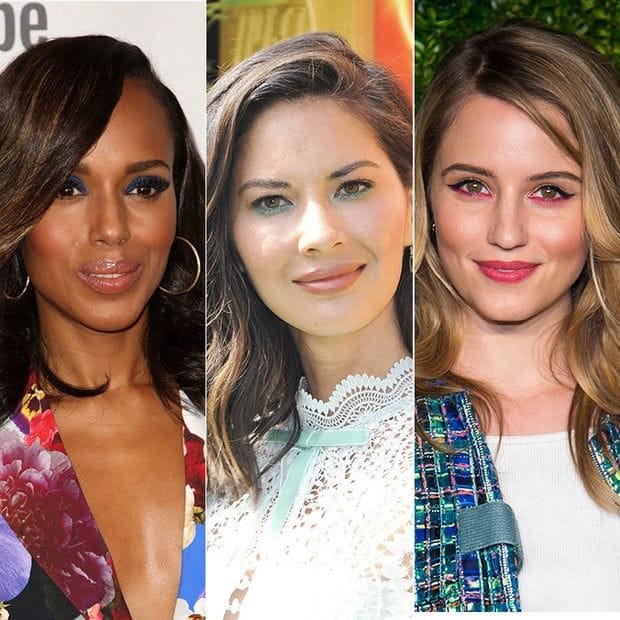 The makeup artist offered up a subtle way for people to try out this trend. "Using white eyeliner in the inner corner of your eyes is also great for those who want to give to the appearance of bigger, brighter eyes," she said, smiling. In terms of applying colored liner, award winning make-up artist and skincare expert Stacey Whittaker shared how she likes to incorporate a pop of color into her make-up looks. "One of the best ways to add this into your make-up look is to smudge the liner of your choice along your bottom lash line and smoke out using a fluffy brush."
GALLERY: THE ULTIMATE CELEBRITY GLAM SQUADS
If you're looking for the perfect daytime look to wear to work, then Stacey recommends going for a brown or gray-colored eyeliner. "You can drag this across your upper lash line to give the illusion of bigger, more defined eyes and add a touch of color without anything too heavy," she said.