While her husband Ryan Reynolds was being honored at Canada's Walk of Fame gala in Toronto over the weekend, Blake Lively was glowing in three stylish maternity outfits on the streets of New York City.
The 27-year-old beauty, who only recently announced her pregnancy, stayed true to her boho-chic style in an array of bold prints, mixing and matching oversized knitwear and classic boots as she shopped for baby clothes.
Blake Lively and Ryan Reynolds are expecting their first child together
In her first look, Blake kept her growing baby bump under wraps in a colorful oversized jacket with a geometric print, which she paired with a cross-body bag and knee-high brown boots. Under her coat, the Gossip Girl wore a short dress, choosing to show off her toned legs as she went shopping.
Her second outfit of the weekend was equally stylish and casual as Blake once again picked a laid-back ensemble. The blonde beauty mixed prints with her skirt and blouse, and completed the look with oversized sunglasses, a three-quarter sleeve coat, burnt orange boots and another cross-body bag.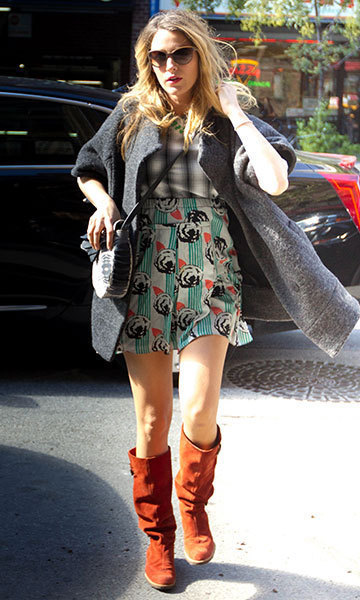 Blake showcased her maternity style in three chic outfits
Jackets have become a staple in Blake's maternity wardrobe — in the photos from her baby shower on her lifestyle site, Preserve, the actress was wearing yet another oversize jacket that fit in with the autumnally-themed shower.
In her third look, Blake swapped higher hemlines for a printed ankle-length jumpsuit with an adorable puppy print, cozy gray scarf, cross-body bag and a chic burgundy coat. She also traded her boots for a pair of sparkling gold stilettos to up the glam factor.
Blake wrapped up warm as she shopped for baby clothes
On Monday, fans got another glimpse at Blake's growing bump when she hit the red carpet with Ryan Reynolds at New York's Angel Ball, which honors those who have made significant contributions in support of cancer research.
"I'm going to amp my style by wearing things that are stretchier," she told US Weekly. "Cause that's all that fits!"